Visma Sign history import
We have added Mass Import functionality to Visma Sign integration. You can easily move all existing contracts from Visma Sign to Zefort.
To find the Mass Import, navigate to Account Settings – > Integrations -> Visma Sign -> Mass Import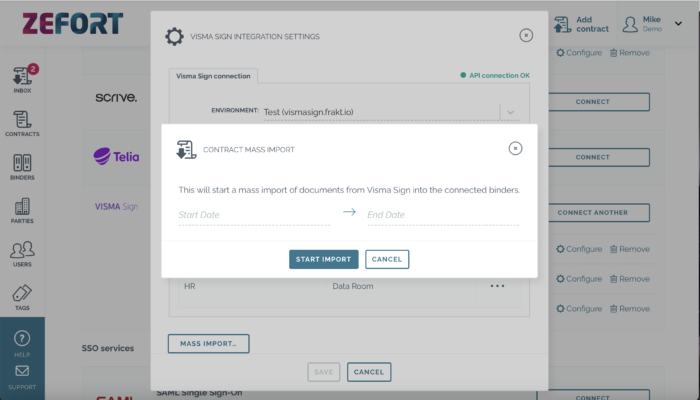 Drag & Drop new contracts
Now you can simply drop & drop new contracts to Zefort 🙂
See how on video below.
Default Binder for a User Group 📁
You can now define a default binder also for a group (previously that was only possible on user level).
When a default Binder for a Group is set, all contracts uploaded by a member of this group will be
added to this binder, provided the member has access to the binder.
(NOTE: If the user uploading the contract also has a personal default binder set, the contract is added to that binder as well.)
You can define the Default Binder for a Group in User -> Groups -> Edit Group view.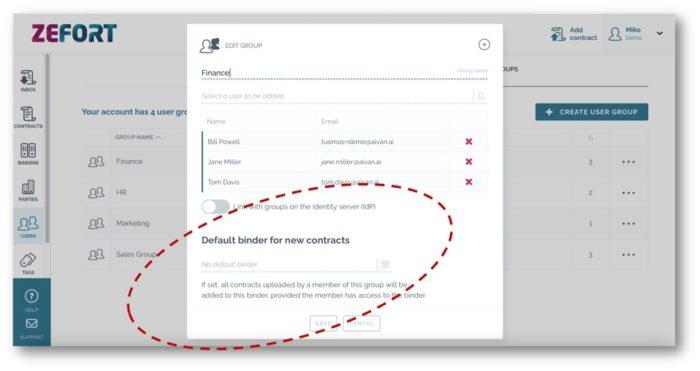 Re-order Contract's files
If your contract has several files attached to it, you might want to have the files in a specific order.
Now you can!
Simply drag&drop the files in the desired order. See below how:
Automatic date proposals 📆
Didn't AI find the correct date how your contract metadata?
It still can make your task of finding that right date a little bit easier:
While on date field's calendar view, click on "Document dates" drop down: Zefort will list all the dates it has found from your contract. Simply select the one correct for that metadata field.
Not only are you filling the metadata field with correct date – at the same time you teach Zefort'a AI to handle that kind of date detection better in the future!
Improved free text search
Zefort's powerful free text search is now even more powerful 💪
Search now finds matches on partial words as well.
Quick Download
You can now download selected contract files directly from the contract card.
1) Click the file icon on the top right corner of the contract card
2) Select "Download"
3) If the contract has more than one file, you can select which files to include to the download.
See video below:
Activities to Calendar 📆
You can now create a calendar event for an activity:
1) Click "…" icon for the respective activity
2) Choose "Add to Calendar". A .ics file is generated and downloaded.
3) Double click that file to add an event to your calendar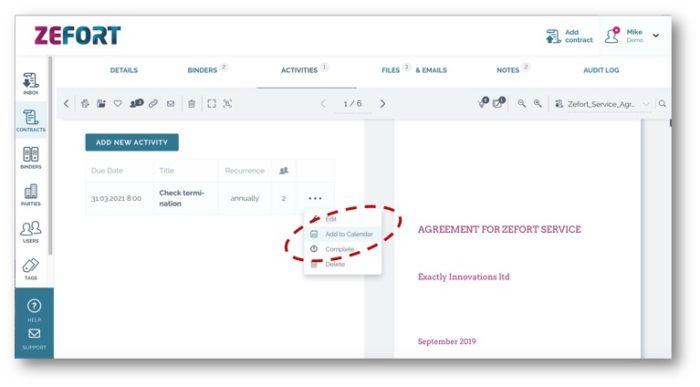 Improved Visma Sign integration
Note: Visma Sign integration is an additional option. If you are interested, contact sales to get this feature to your account.
Visma Sign integration now includes a possibility to map Visma Sign folders to Zefort Binders.
🎬 See video below for additional information.
Email addresses 2.0 📧
We have enhanced the email feature in Zefort:
Improvement 1️⃣: possibility to have several user (Admin or Editor) specific email addresses
Use case: you have your fixed address in scanner's address book, but share a different email with your project team for project related contracts. Once the project is over, you can simply delete that project specific address.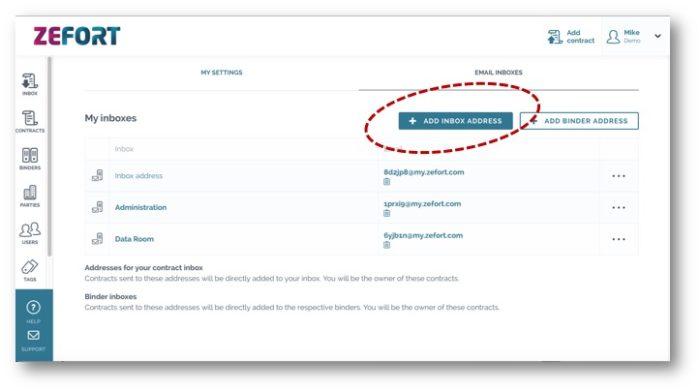 Improvement 2️⃣: possibility to reset any email address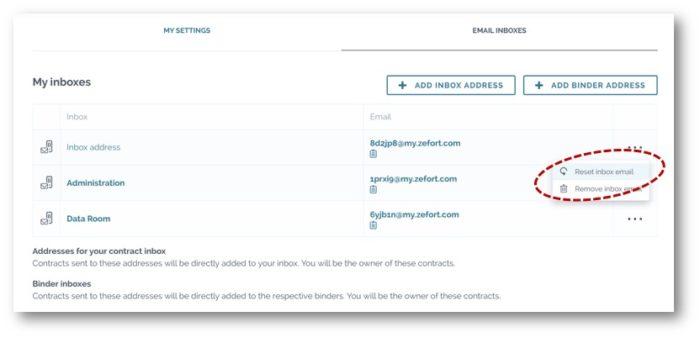 New feature: Public Binder addresses
(Note: this is an optional feature and not available in the CORE edition)
You can now create unlimited number of:
1️⃣) Personal Binder address (=owner of the contract sent to this address will be you)
or
2️⃣) Public Binder Address (=owner of the contract se to this address will be the owner of the Binder)
You can find this feature in the Binder section, by clicking "…" icon for that specific binder: