Related contracts
Note: this is an optional feature, not active on all accounts.
Now a related contract metadata-field is available. You can add it to a desired position in Account Settings -> Contract metadata.
Each contract can have unlimited number of related contracts. Relation is a two-way relation.
See video below for more info:
Saved search with dynamic metadata
You can now create a saved search. Both date and user metadata fields support dynamic values (such as "signed in user" or "today + 3 months").
A saved search can be set as a default view on account or user level.
See video below for more info:
Manage Binder access from user management
Binder Access can now be managed also from user management.
So instead of assigning several users or groups to a single binder you can now also assign several binders to a single user.
See video below for an example:
Bulk edit of any metadata field
Now you can bulk edit any metadata field. Just select the contracts, click "Metadata" icon on the toolbar and select the metadata field you want to edit for selected contracts.
See video below for an example:
New look and feel for Filters
Based on user feedback, we made improvements to Filters
* Hiding the Filters section is now easier.
* Filters' metadata fields are now ordered better.
AI training for Date fields 🤖
Zefort has taken the first step towards teachable AI: you can now see from where AI has picked the date for a metadata field and if needed, teach AI the right position in the contract.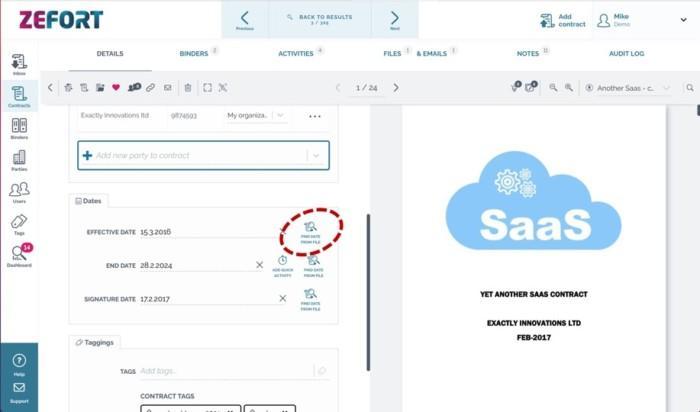 Trash bin 🚮
We have implemented a trash bin functionality in Zefort. When you delete a contract, it is first moved to a trash bin. From trash bin, you can either restore or permanently delete.
You can see the trash bin in action below:
New Editor Rights
Two new rights have been added to Editor role:
– "Can add contracts" – this right allows Editor to upload new contracts to Zefort. Before this was a fixed right for each Editor. Now it is possible to have an Editor user, which can edit existing contracts, but can't upload new contracts.
– "Can manage parties" – this right gives Editor user access to party manager (PARTIES icon in the left column) and also possibility to edit existing parties in the contract detail view.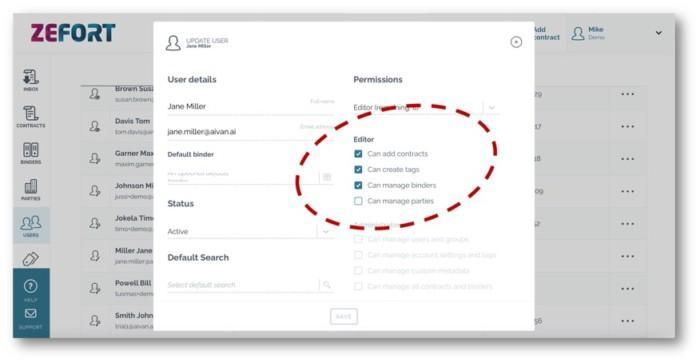 Binder Access report
Admin with user management rights can now download all Binder Access data in an Excel file.
To access this feature, navigate to "Users" and click "…" on the right top corner.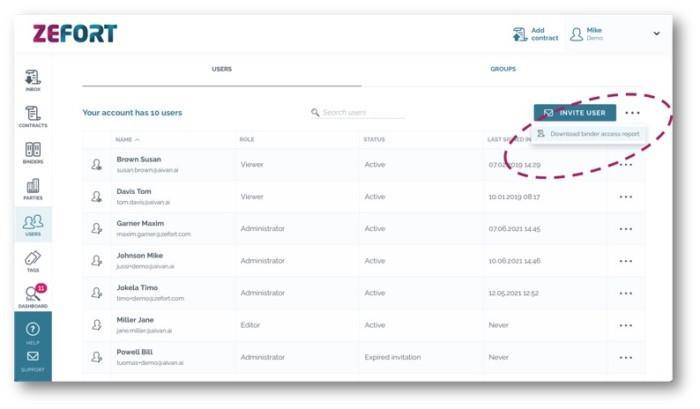 Hide / Show search highlights
You can now hide the search results in the Contracts view.
See how in the video below: