Configurable Party roles
You can now define your own roles for contract parties.
Default party roles in Zefort are My organization, counterparty, and undefined. You can now add your own roles for contract parties and use them in filters.
See below how:
Contract card zoom
It is now possible to zoom in and out the contract cards in the Contracts view.
This is a handy feature if you want to compare two contracts side by side – just zoom in and start flipping the pages 🙂
Zefort Sign
BIG NEWS! You can now sign contracts with Zefort. Zefort Sign is now available for all Zefort users and supports both basic and advanced digital signatures.
Using Zefort sign requires a change in Zefort's General Terms and Conditions document. If this feature is not yet active on your account, contact Zefort support to get it activated.
For more information, visit the Knowledge Base article: https://zefort.com/support/how-zefort-sign-works/
AI-based binder suggestions 🪄
We have added some more AI-magic in Zefort 🙂
Once you have enough content in your Zefort account, Zefort's AI can now propose a binder for your newly added contract. See this in action in the video below.
Detaching a contract appendix
Now you can detach a contract appendix to a separate contract.
Detached appendix is placed on the inbox and you can review and finalise the metadata there.
In Detach-dialog, there is also an option to automatically create a relation between the original and detached contract.
See video below for more info:
Two-factor authentication (2FA)
To improve the security of Zefort's non-SSO users, we now have a 2FA available.
Click here to find out how.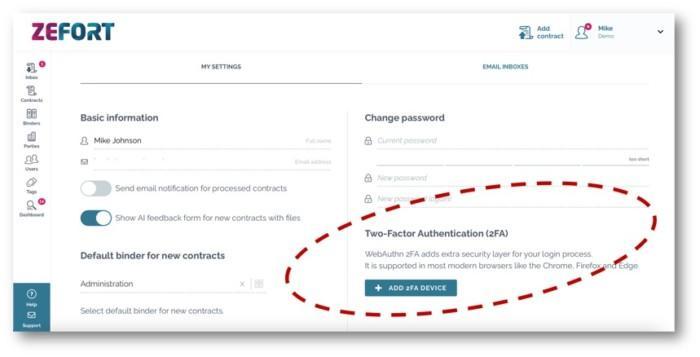 Changelog
Zefort now has an easy way to show what changes have been made to the contract metadata.
If any changes has been made since your last visit to appropriate contract, a notification is shown.
You can find the changelog icon in the top toolbar in contract detail view.
See video below for more info:
Trash bin management options 🚮
We have added some configuration options for trash bin. You can find these settings in 'Account Settings' -> 'Organization' tab:
1. Require Administrator license to permanently delete contracts in Trash
-> Only Admin users can permanently delete contracts
2. Automatically delete contracts that have been in Trash more than 30 days
See video below for more info:
Related contracts
Note: this is an optional feature, not active on all accounts.
Now a related contract metadata-field is available. You can add it to a desired position in Account Settings -> Contract metadata.
Each contract can have unlimited number of related contracts. Relation is a two-way relation.
See video below for more info:
Saved search with dynamic metadata
You can now create a saved search. Both date and user metadata fields support dynamic values (such as "signed in user" or "today + 3 months").
A saved search can be set as a default view on account or user level.
See video below for more info: