Quick Download
You can now download selected contract files directly from the contract card.
1) Click the file icon on the top right corner of the contract card
2) Select "Download"
3) If the contract has more than one file, you can select which files to include to the download.
See video below:
Activities to Calendar 📆
You can now create a calendar event for an activity:
1) Click "…" icon for the respective activity
2) Choose "Add to Calendar". A .ics file is generated and downloaded.
3) Double click that file to add an event to your calendar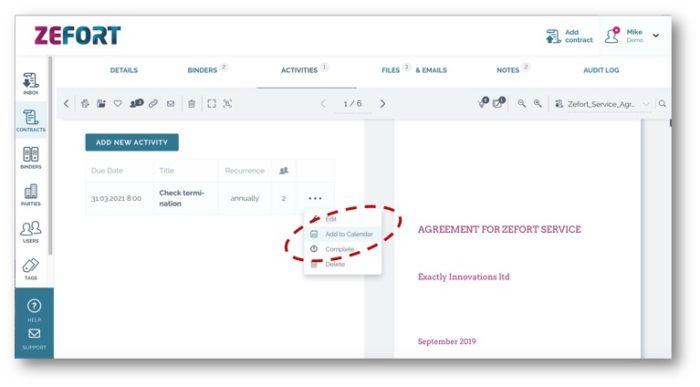 Improved Visma Sign integration
Note: Visma Sign integration is an additional option. If you are interested, contact sales to get this feature to your account.
Visma Sign integration now includes a possibility to map Visma Sign folders to Zefort Binders.
🎬 See video below for additional information.
Email addresses 2.0 📧
We have enhanced the email feature in Zefort:
Improvement 1️⃣: possibility to have several user (Admin or Editor) specific email addresses
Use case: you have your fixed address in scanner's address book, but share a different email with your project team for project related contracts. Once the project is over, you can simply delete that project specific address.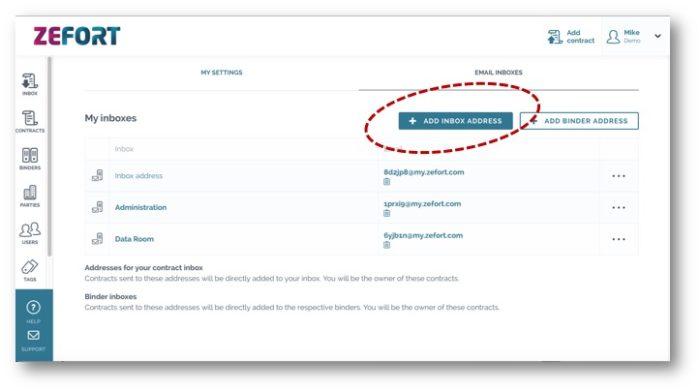 Improvement 2️⃣: possibility to reset any email address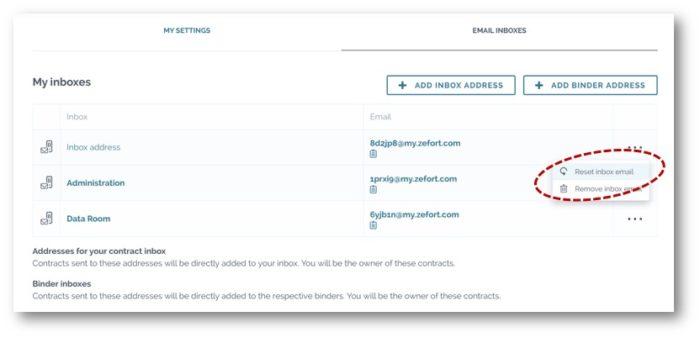 New feature: Public Binder addresses
(Note: this is an optional feature and not available in the CORE edition)
You can now create unlimited number of:
1️⃣) Personal Binder address (=owner of the contract sent to this address will be you)
or
2️⃣) Public Binder Address (=owner of the contract se to this address will be the owner of the Binder)
You can find this feature in the Binder section, by clicking "…" icon for that specific binder: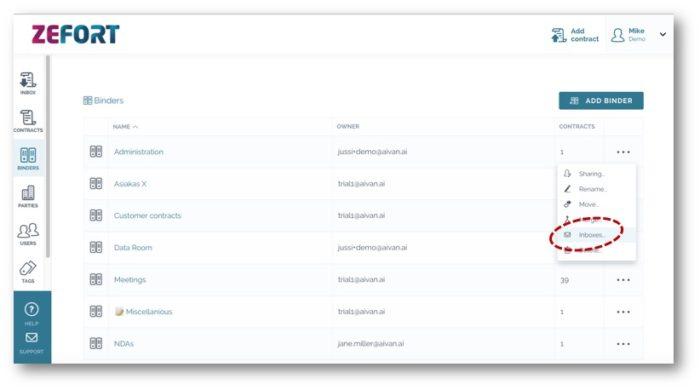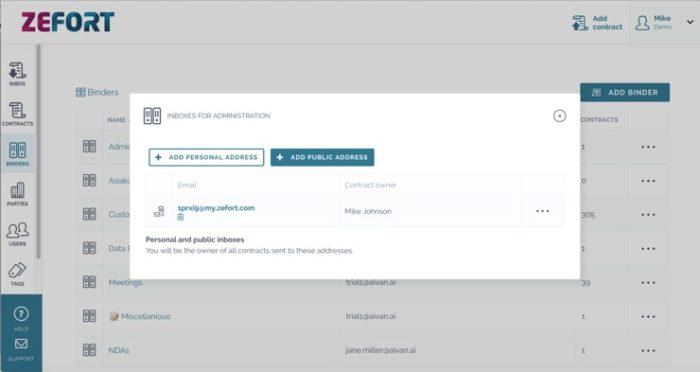 Quick notes ⚡️
Need to comment a specific part of a contract? Just select the text you want to comment, click on the '+' icon that will appear and write your comment.
Almost Zero-effort, if you ask me 🙂
Tooltips for contract metadata fields 💡
You can now add tooltips to any contract metadata field. This can be done in contract metadata editor (note: contract metadata editor is an option and not available in all Zefort accounts)
"At Due Date" reminder 🗓
We added new option for reminders: "At due date". Now you can schedule your reminder to trigger on activity's due date.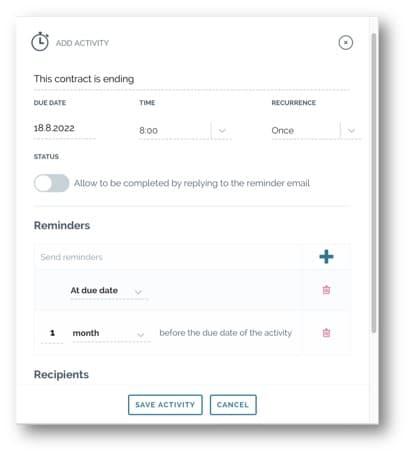 Shortcut to contract's email address 📧
Need to forward a contract related email to Zefort. No longer need to open the contract and navigate to the Emails tab to fetch the email address 🙂.
If the email receiving is already turned on for that specific contract, you can simply copy the address directly from the contract card.
Shortcut to change title's case
In many contracts the contract's title is written in upper case. If so, AI will also propose the title in upper case.
We have learnt that some of you prefer having all metadata written in a normal sentence case.
That's why we introduce a small but handy new feature: if the title is in upper case, you can quickly change it to sentence case by clicking the icon next to the title (see video below).
More clear binder access view
We have updated the access view for Binders. Now all access rights (both users and groups) are shown in same table and for each item the access level is clearly shown.
You can edit the access rights or change the binder's owner from the "…" menu.