Zefort auttaa Castrén & Snellmanin asiantuntijoita keskittymään olennaiseen
Castrén & Snellman on vaativia asianajopalveluita tarjoava 265 hengen asianajotoimisto, joka palvelee asiakkaitaan erityisesti yritysjärjestelyissä, riidanratkaisussa sekä muilla yritysjuridiikan erityisaloilla.
Juridiikan ja muiden toimistolla työskentelevien ammattilaisten tukena toimii Legal Tech -tiimi, joka varmistaa yhdessä IT:n kanssa, että asiantuntijoilla on käytettävissään parhaat mahdolliset digitaaliset työkalut.
Castrén & Snellman käyttää tehokasta dokumentinhallintaratkaisua, jossa on suuri määrä asiakirjoja. Asiakirjamäärän kasvaessa syntyi tarve erilliselle sopimustenhallintaratkaisulle, jossa olisi paremmat edellytykset luokitella ja erotella tietyntyyppisiä sopimuksia muusta asiakirjamassasta. Syksyllä 2020 Castrén & Snellman aloitti sopimushallintaratkaisun pilotoimisen.
Zefortin olemassaolo loi tarpeen paremmalle sopimushallinnalle. Perinteiseen dokumentinhallintaan verrattuna Zefort tarjoaa tehokkaat hakuominaisuudet, mahdollisuuden järjestellä sopimuksia tarkoituksenmukaisesti sekä intuitiivisen käyttökokemuksen. Mitä helpompaa palvelun omaksuminen ja käyttö on, sitä enemmän asiantuntijoiden aikaa säästyy. – Paula Aura, Head of Knowledge Management & Innovation, Castrén & Snellman
Alkuvaiheessa Castrén & Snellman käyttää Zefortia omien sopimusten hallintaan.
Zefortin kaltainen teknologia tuottaa lisäarvoa ja poistaa tylsyyttä tekemällä asiantuntijatyöstä mielekkäämpää. Älykäs sopimushallinta edustaa tietojohtamista parhaimmillaan – luotettava pääsy uusimpiin asiakirjaversioihin ja toimiva metadata tukevat oikea-aikaista tiedonsaantia. – Paula Aura, Head of Knowledge Management & Innovation, Castrén & Snellman
Sopimustieto löytyy helposti yhdestä paikasta
Zefortin selainpohjaisen käyttöliittymän avulla sopimukset löytyvät helposti. Sopimuksiin voidaan antaa pääsy tarvittaville henkilöille tai tiimeille – tarvittaessa myös yli organisaation sisäisten rajojen. Castrén & Snellmanilla esimerkiksi taloustiimin asiantuntijat löytävät jatkossa sopimuksiin liittyviä tietoja helposti Zefortin avulla.
Zefort on auttanut minua omassa työssäni niin, että aiemmin sähköpostissani ja dokumentinhallintajärjestelmässämme vaikeasti hallittavana kokonaisuutena olleet sopimukset on nyt tallennettu yhteen paikkaan, missä ne ovat helposti saatavilla sekä myös visuaalisesti miellyttävällä tavalla nähtävissä. Zefort lähettää myös muistutuksia sähköpostiini sopimuksista, jotka ovat tulossa uusittaviksi. – Sini Toskala, KM Lawyer, Castrén & Snellmanin tietopalvelun vetäjä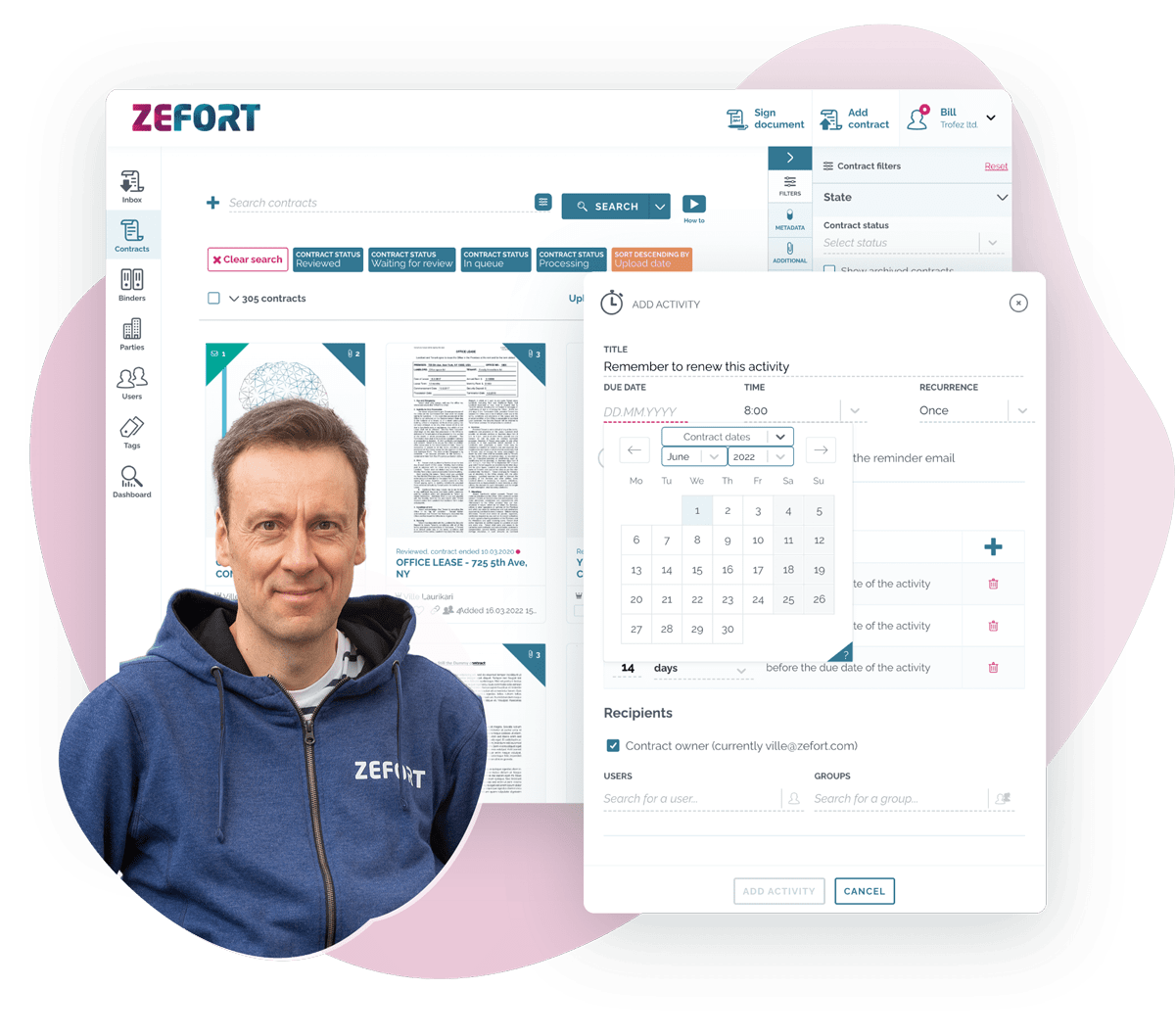 Jussi Karttila esittelee Zefortin keskeisimmät ominaisuudet ja kuinka yrityksesi voi hyötyä markkinoiden kenties älykkäimmästä sopimushallinnan ratkaisusta.