Going into the new year, a lot of companies are looking into changing their contract management tool or starting a fresh new digital contract management process. In this post, we'll take a look at some of the popular tools out there. You might also be interested in our Contract Management Migration Guide.
Before we start, let's take a minute to categorize the various options out there. Since there is a lot of variety – you can spend way too much time investigating a solution that really does not meet your key needs.
To make things simpler, we categorized the tools based on their contribution to the contract management process, which is broken down into pre-sign, signing and post-sign activities. Naturally, the tools may overlap: a digital signing tool might allow you to save signed documents in the system – however, a dedicated contract archive probably comes with richer features for long-term post-sign contract management.
Here's how the selected solutions map on the process: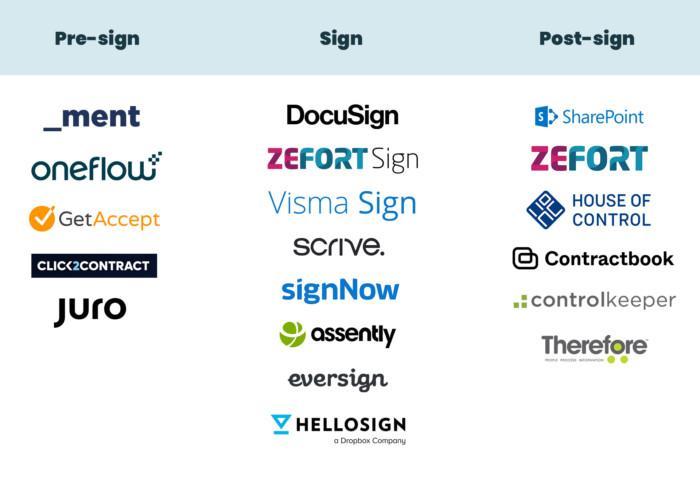 Note: for this comparison we left out tools like Dropbox, OneDrive, Google Drive and M-Files as these are essentially file management tools with few dedicated contract management features.
Pre-signing with GetAccept, Click2Contract and more
In the pre-signing phase, legal teams and other contributors author the contract documents. Once a draft is in place, the document gets passed around with contract parties for negotiation.
The legal technology solutions designed for this phase come with document authoring features, collaboration tools and change tracking, for example.
If you are looking for pre-sign tools, take a look at specialized solutions such as Ment (previously known as Contract Mill), a tool that lets you automate complex documents to make your work more efficient. On the other hand, there are Click2Contract and GetAccept, which are designed to let sales teams close deals faster.
For more information on selecting signing tools, check out our Contract Management Migration Guide. If you want to know more about the contract management process in general, check out our Guide to Digital Contract Management.
Get digital signatures with Visma Sign, DocuSign, Zefort Sign and others
There are plenty of tools for digital signing out there and the chances are that you are already using one of them. If you are not – or you want to explore other alternatives –, here's a shortlist to get you started.
Visma Sign
DocuSign
Zefort Sign
Scrive
SignNow
Assently
Eversign
HelloSign
Selecting a eSignature service essentially comes down to your needs and preferences. When trying out a service, consider the following:
Is the service easy to use and get started?
Does it support the authentication methods (like email, phone, online bank ID) needed in your business, if you need to verify the identity of the signer, for example?
Can you track the signing process and send automated reminders?
What happens to documents once they are signed?
Also, make sure your eSignature tool comes with good integration features that enable automatic long-term archival of signed documents. Some eSigning solutions, such as Zefort Sign, come with built-in contract archives.
Using tools like Sharepoint, House of Control and Zefort for post-sign contract management
After your documents are signed, you probably want to store them somewhere safe and make them easily accessible when needed. That's where a modern contract archive comes in.
Existing solutions for post-sign document management include House of Control, Zefort, Contractbook, ControlKeeper and Therefore. Sharepoint, while often used for contract management, is not really a dedicated contract management solution. Sharepoint comes with a lot of customization options, but note that you might have to invest in development work to make it fully support intuitive workflows.
As discussed in our Contract Management Migration Guide, some solutions are designed to especially cater for specific niches: Control Keeper provides expense and business credit monitoring, while House of Control is a tool for finance departments to boost accounting and budgeting.
Zefort, on the other hand, comes with a built-in eSigning solution and a flexible contract archive with automation, smart search and secure sharing features.