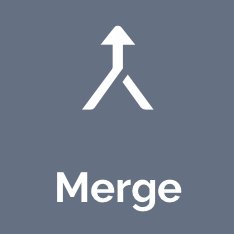 Contracts can be merged in Zefort, follow these steps and check the video!
Select the contracts for merge
Click the Merge button in the toolbar
Select the main contract
If needed, adjust advanced settings to select which properties are merged:

Activities and reminders
Attributes (title, dates, etc.)
Binders
Documents
Emails
Notes
Parties
Signatures
Tags

Click

continue

Note that this process can't be undone!

Click

Merge contracts

 to confirm merge
The main contract will keep the properties it already has. When merging overlapping data older contracts will take priority over newer contracts. Merged files are saved as contract attachment, you can find them in the Files tab.