Contract management is a process and electronic signatures are an important part of that process. When you think of eSignatures, it's important to also consider the bigger picture: what happens before and after the document is signed and how digital signatures work as part of your process as a whole. In this post, we'll take a look at how digital signatures fit the full contract lifecycle.
What happens to your signed document?
Far too often, a signed document is simply forgotten after the deal is closed or the contract agreed. This should not be the case: a signed contract, for example, is a living document that defines your responsibilities, schedules and deliverables. Several people may need to access this information on a regular basis.
Many eSignature services are designed to provide an excellent signing experience. At the same time, they might be lacking critical features when it comes to post-sign activities. It may be difficult to quickly find specific documents, share them with your team and generally manage a large volume of documents.
How can you ensure your signed documents are always readily available, then? Before diving into this, let's take a quick look at the entire process.
The digital contract management process
To simplify, the lifecycle of a contract (or any other document that needs to be signed) can be split into three phases: pre-signing, signing and post-signing. Pre-sign activities focus on creating and finalizing the contract, signing makes the deal or other business transaction official, and post-sign ensures that the contract obligations are met.
➡️ Read more about contract lifecycle management from The 2022 Guide to Digital Contract Management.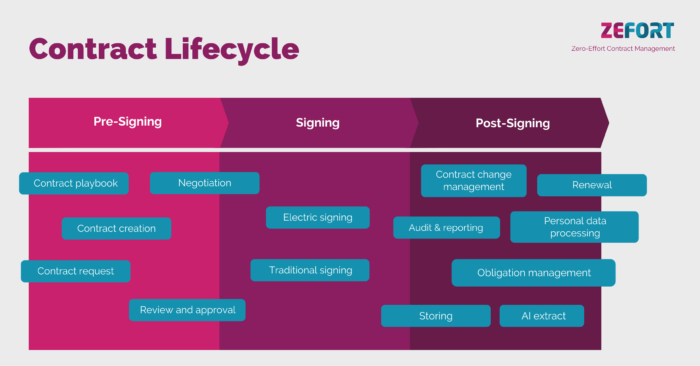 When you move to and from the signing phase, try to cut down the amount of manual work to the minimum. This is not only because manual work takes extra time and effort, but also because human work is always prone to mistakes and delays.
A practical example: if your team member is required to manually upload a document to an eSigning service and then later download it (and save it in a specific folder on a network drive), the chances are they simply won't do it, the task gets forever delayed or a wrong document version is archived.
So, look for automation: does your eSign service have API integration to your document management system to allow automatic content transfer? Or, better yet, can you complete the signing step directly from your contract management system?
Utilize a contract archive
Today, misplacing signed contracts is simply not an option. You want to keep your contracts safe to keep the business running, manage your risks and ensure compliance with any legal and compliance requirements.
What to look for in a contract archive
If you are looking for a dedicated contract archive, here are some questions that help you select a suitable tool for you.
Can I store any number of documents indefinitely?
Can I find any required documents easily with the help of rich metadata?
Does the solution allow multiple users with different roles and document sharing?
Does the archive come with a built-in signing feature?
Can I set up automation with my other tools through integrations and APIs?
Instead of using a delicate folder structure on a network drive, or a generic document management system, you are likely to get the most benefit out of a dedicated contract archive. A good contract archive adapts to your needs: it can be either a daily tool for contract management or an automated "set up and forget" archive for signed digital documents.
All you need to know about eSignatures
If you want to know more about electronic signatures, take a look at our free eBook The Ultimate Guide to eSignatures. In addition to the CLM process, it takes a look at what exactly makes digital signatures legally binding and how you can turn them into real business benefits.