Zefort completes Futurice's contract management
Futurice was looking to renew its contract management through and through. Zefort's easy-to-use contract management solution now takes care of the company's contract archiving, integrates nicely with other systems and opens intriguing new potential for the future.
Futurice is a leading software service provider that employs over 600 specialists in eight offices around Finland, the UK, Germany, Sweden and Norway. Hundreds of customer projects and various collaboration arrangements produce a continuous contract flow to Futurice.
With its customer and cooperation contracts, Futurice faced a very common problem: there was no cover-all management system in place for the contracts. Instead, they were scattered around the different offices and employees' personal files. Paper contracts were kept in binders, which made it difficult to quickly find a specific piece of information.
Futurice launched a project to rethink and revolutionise its contract management process throughout the contract lifecycles. In addition to being reliable and technically functional, the tools needed to be easy to use. For example, the company did not want its sales staff to spend too much time and effort on entering meta data.
We did a lot of testing with off-the-shelf solutions. We also evaluated all-embracing solutions that covered the entire contract lifecycle, but we noticed that they would have taken too much compromising. That's why we finally decided to break up our tool requirements into two categories: before and after signing. – Teemu Oksanen, General Counsel, Futurice
Zefort's benefits: versatile features and active attitude
Based on artificial intelligence, the Zefort contract management solution made it to the final stretch in Futurice's comparison. What finally closed the deal for Zefort – in addition to the service features – was the active, customer-oriented approach of the Zefort team.
We gave Zefort feedback on the features that we needed. During the testing period, we were positively surprised to see how our requirements were reckoned with in the product and on the list for future development. We are really happy about the genuine dialogue. – Teemu Oksanen, General Counsel, Futurice
In the future, Zefort's contract solution will handle Futurice's contract safe keeping. The actual management software will be used by key users in the company's different offices, along with support services staff from the finance department and IT, for example.
Zefort's system integrates nicely with other contract lifecycle management solutions.
For us, it is key that the software does not force us to change our processes. It needs to adapt to our preferred processes. – Teemu Oksanen, General Counsel, Futurice
User experience and future potential
Before Zefort, Futurice's offices used an Agreements box into which sales people could drop their completed contracts for further processing. What further improvement can a new system bring to this?
Sales staff can now archive signed contracts whenever and wherever they wish by simply sending them as attachments to a specific email address. Artificial intelligence takes care of the actual archiving automatically.
As for the service dashboard, Futurice's staff has especially grown to appreciate Zefort's effective search function and neat interface that only shows the essentials.
From now on, all contracts entered in the system and the metadata identified in them will accumulate Futurice's digital contract pool.
The accessibility of contract contents as combinable data opens up new potential for us. We do not yet know how exactly we will use the data, but in our capacity as software professionals, and with Zefort as our sparring partner, I'm sure we'll think of something. – Teemu Oksanen, General Counsel, Futurice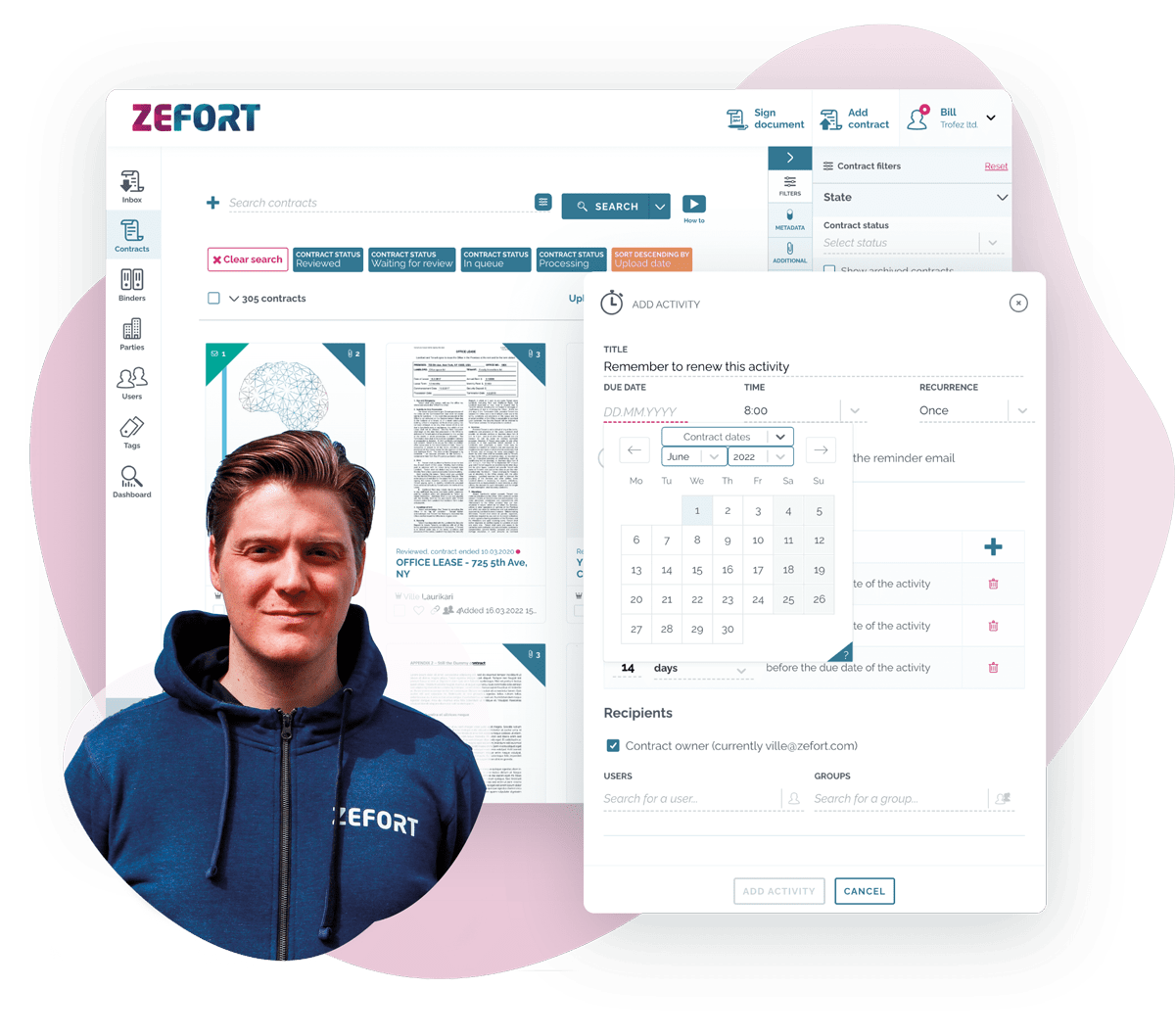 Take a tour of Zefort's key features and see how you can benefit from AI-powered contract management system.