Zefort redeemed its promise to Futurice
Futurice has managed its contracts with Zefort already for four years. Today, Zefort helps Futurice's small but very efficient legal team to manage the entire group's contract base while providing valuable data for business development. Praised for its ease-of-use, Zefort's solution has been integrated as a key part of an agile contract management process.
When Futurice started using Zefort in 2019, the company did not have a prior cover-all contract management system in place. Futurice's team made an effort to extensively test various contract management solutions and finally decided to move forward with Zefort.
In addition to reliability, security and technical compatibility, Futurice was especially looking for ease of use – they didn't want busy salespeople to waste time manually entering contract metadata, for example.
Since Zefort was introduced four years ago, Futurice has grown significantly and the importance of data in business development has become more and more important. Today, the Futurice Group employs over 850 tech professionals in Finland, Germany, Sweden and the UK.
Hundreds of customer projects and various partnerships mean a continuous flow of new contracts. However, while the business has grown, the legal team that serves the entire group has remained small.
"Smart technology helps legal teams work efficiently and focus on meaningful tasks. With automation running the routines, such as contract data entry, experts can focus their energy in solving the more complex challenges." – Teemu Oksanen, General Counsel, Futurice
Cornerstone of everyday contract management
In four years, Zefort has become a central part of Futurice's contract management routines. In addition to the legal team, the solution is used by especially salespeople and account managers as well as the group's financial team and administration.
"Zefort has truly redeemed its promise – now we have a centralized, easy-to-use tool for managing all our contracts. Adding new contracts is effortless and it's easy to find just the contract you need." – Teemu Oksanen, General Counsel, Futurice
Since the very beginning, Futurice has appreciated Zefort's active, customer-focused attitude. At first, this meant quick responses to feedback and implementing new features at a good pace. Still today, communication with the service provider is easy-going, natural and personal.
Leveling up with integrations
One of the things that originally stood out in Zefort was its integration capabilities. Now that Futurice's contract routines are running smoothly, the team has continued to shape the process to even better fit their needs and preferences.
One example of everyday helpers is a Slack integration, that gives the team automatic updates on new contracts and their states directly to Slack, the comms tool the team uses all the time. This helps the team to keep an eye on contracts even without having to log in to Zefort at all.
"For us, it is key that the software does not force us to change our processes. It needs to adapt to our preferred processes. – Teemu Oksanen, General Counsel, Futurice
Future development areas include improving integrations with pre-sign tools and digital signing services. In addition to reducing manual work, the team strives to ensure that data flowing through APIs is of as high quality as possible.
Article image: Mari Mur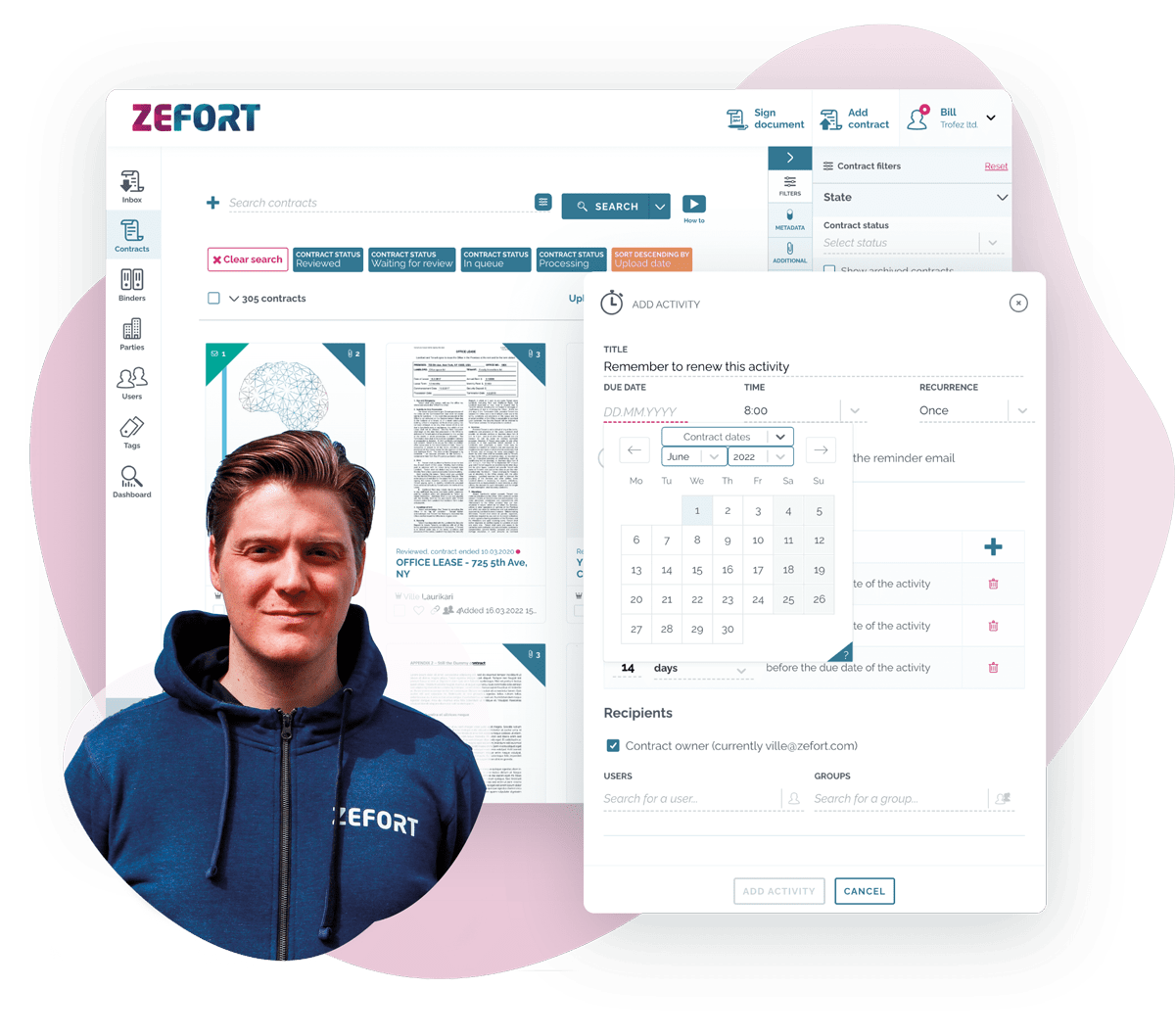 Take a tour of Zefort's key features and see how you can benefit from AI-powered contract management system.