A-lehdet keeps documents secure with Zefort
A-lehdet Oy is part of A-lehdet Group, a forerunner in media content, digital trade and growth marketing. The company publishes 20+ well-loved magazines, websites, and podcasts and works with social media influencers to provide comprehensive marketing solutions.
Before Zefort, A-lehdet was using a document management system that really didn't work well for the team. It was difficult to find and review specific contracts from a mass of documents. What's more, the legacy solution simply did not offer enough functionalities for the secure handling of documents with the very highest confidentiality requirements.
The team looked into various options and eventually chose Zefort. Ease of use, the current and future potential of AI processing and ready-made Visma Sign integration were the key factors that tipped the scales in Zefort's favor.
Single, secure home for all important documents
Today, A-lehdet uses Zefort widely to manage all types of important contracts and documents. The solution is used by approximately 30 users in various company functions.
The team appreciates being able to find contracts quickly and the ability to use metadata and tags to group and link contracts together. They also value the possibility to add additional information, such as related email conversations, to the contract card.
Compared to the previous system, it is now much easier to manage individual user and user group access to confidential contracts.
"With Zefort, managing access to confidential information is easy. We can reliably control access to specific documents or folders on user, user group and company function level." – Sanna Walden, Data Privacy Manager, A-lehdet

"Zefort allows managing documents with the highest level of confidentiality through a completely secure digital process, from signing to archiving." – Anna-Mari Kettunen, Executive Assistant, A-lehdet
Good planning pays off
Before taking Zefort into use, the A-lehdet team took time to plan ahead in advance. The team planned the optimal folder structure for contracts in the new system and considered what kind of access rights various users and user groups needed. In the end, the advance planning paid off and made switching to the new system easy.
All in all, moving to digital contract management has made life easier at A-lehdet.
"With Zefort, we really leveled up our contract management. Managing the entire contract lifecycle is easier and more secure than ever before." – Sanna Walden, Data Privacy Manager, A-lehdet

"Zefort allows me to focus on my work better knowing that all confidential information is secured." – Anna-Mari Kettunen, Executive Assistant, A-lehdet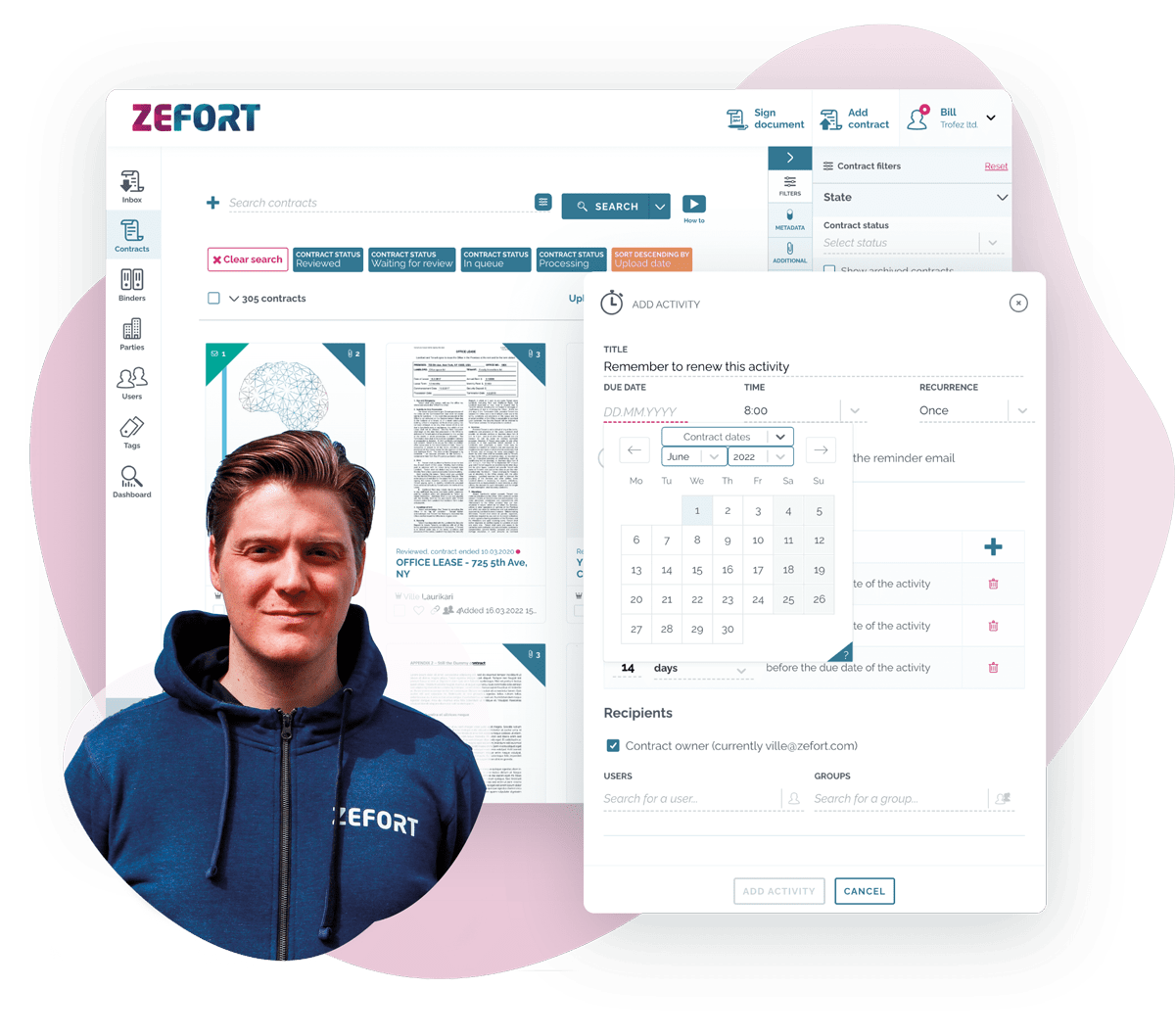 Take a tour of Zefort's key features and see how you can benefit from AI-powered contract management system.