Aktia Bank relies on Zefort's technology
Aktia needed a modern, fully digital and easy-to-use contract management solution. Zefort's technology, innovative features, smooth user interface and the company's service-oriented attitude together impressed the oldest bank in Finland.
Aktia Bank plc. is a financial operator that provides both businesses and consumers with banking, finance and investment services. Aktia focuses strongly on developing world-class digital services and solutions.
Before Zefort, Aktia lacked a joint enough, centralized system for efficiently managing partner and supplier contracts throughout their lifecycle.
The bank set its goal to find a fully digital contract management system that supports a paperless contract management process. Aktia's team of experts evaluated several contract archival services and finally decided on Zefort's solution.
From Aktia's side, the deployment project was managed by Legal Counsel Jarno Koskimäki, who is in charge of the legal aspects of Aktia's technology and digital service development
Information security and ease of use
As a financial operator, Aktia's requirements for information security and data privacy were extremely high. Zefort's ISO 27001 certified operations and the technical security features of the solution met Aktia's requirements.
As for the user interface in Zefort's cloud service, Aktia found the functionalities to be modern, intuitive and easy to use – just as hoped.
All in all, the deployment of Zefort at Aktia worked smoothly.
For us, it was important that Zefort, as a Finnish innovative technology company, matched our company values and met our strategic requirements. We were able to take the service into use easily and quickly, without disturbances to our other processes or functions. A key factor in the smooth deployment project was the fact that Zefort's team was very cooperative and available even on short notice. – Jarno Koskimäki, Legal Business Partner, Legal Counsel
From now on, Zefort's solution will be used to manage all of Aktia's partner and supplier contracts.
Shared vision of digitalization
Large enterprises in the financial sector tend to choose well-known and established service providers as their partners. In Aktia's case, Zefort's innovative approach, modern technology and attitude convinced that the growth company was the perfect partner.
We wanted the most modern solution in the market and a partner that matches our strategy. Zefort quickly started to feel like a company that we really want to work with. – Jarno Koskimäki, Legal Business Partner, Legal Counsel
Aktia was also impressed by Zefort's agile working methods and customer-oriented attitude. Zefort's development team keenly listens to feedback and refines improvement ideas into service features that benefit Zefort's customers throughout.
It is fantastic to have a world-class service with cutting-edge technology and stylish user experience tackling the problems with contract management. As a bank with two centuries of history and experience, Aktia was happy to join forces with a new rising company as we both share the same enthusiasm about the possibilities of digitalization. – Jarno Koskimäki, Legal Business Partner, Legal Counsel.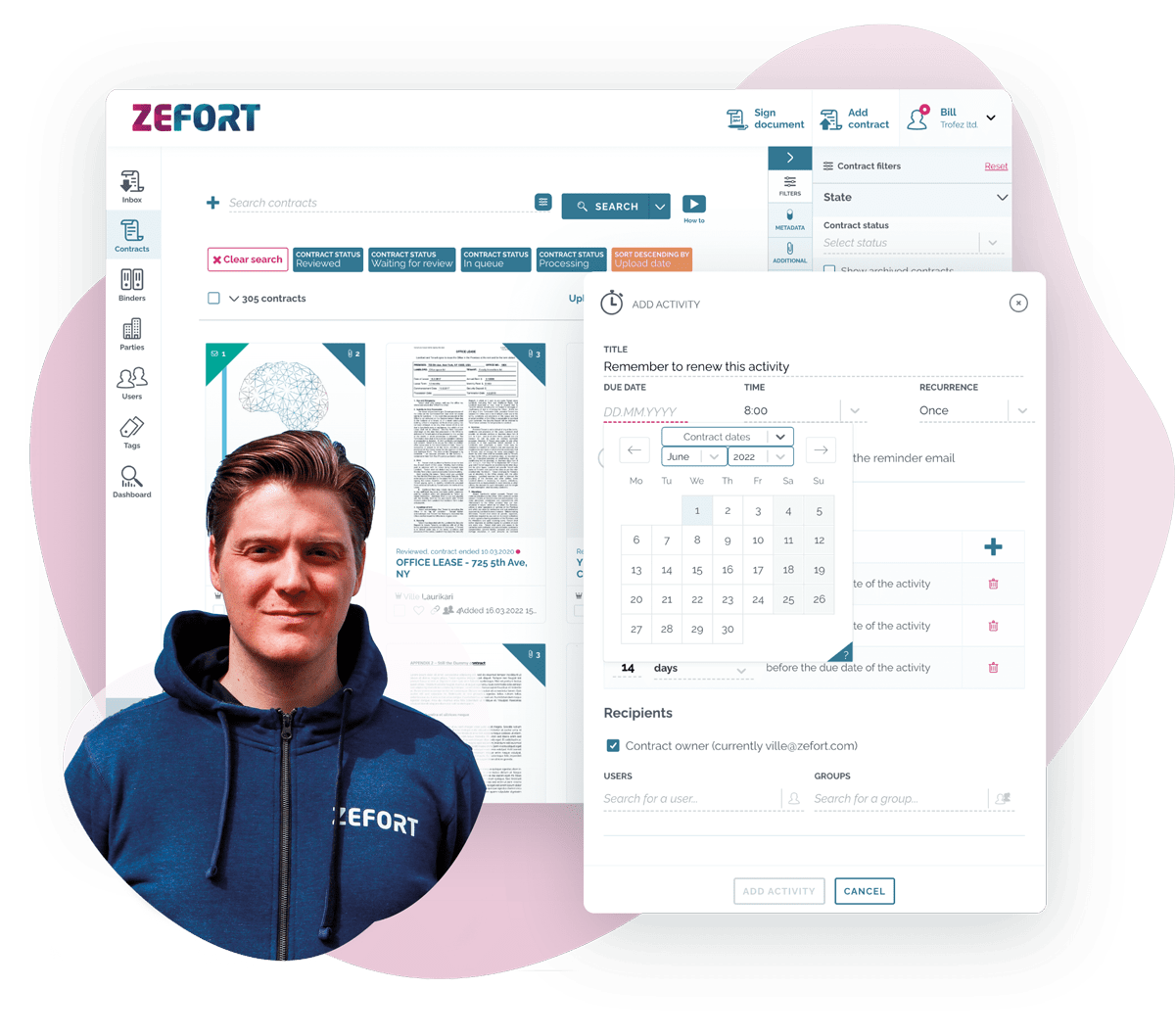 Take a tour of Zefort's key features and see how you can benefit from AI-powered contract management system.