Supercell gets peace of mind with Zefort's contract management
Supercell is the game development company behind the hit mobile games Clash of Clans, Hay Day, Brawl Stars, Boom Beach and Clash Royale. Despite high global revenues, Supercell prefers to keep its organization lean and teams small – and the legal team is no exception.
That's why the possibility to save time and effort was a key reason why Supercell chose Zefort's smart contract management solution.
"We were looking for something where we could simply throw all our contracts easily, generate metadata automatically and connect with our go-to eSignature service. Zefort ticked all these boxes," says Dave Chang, Legal Counsel at Supercell.
"With a super small team, each minute of manual work for archiving contracts increases the chances that you simply won't do it. Zefort removes this extra effort as you can simply email the contract to archive it," says Hannu Partanen, Legal Counsel at Supercell.
"Zefort kind of works like Google"
For Supercell, Zefort is the home for all contracts and documents with legal implications from employment contracts to publishing agreements and board minutes.
"Knowing that everything can be found easily gives us a peace of mind. Zefort's search function is really nice, it kind of works like Google. After all, searching is what we're all used to in 2021," continues Dave Chang.
"Zefort's team has the right level of ambition"
Supercell's legal team has been really happy with the cooperation with Zefort's team.
"Zefort's team is super responsive to our feedback and suggestions. For example, the DocuSign integration we needed was done very quickly," says Dave Chang.
"In my opinion, Zefort has the right level of ambition for the quality of their service. That's one of the reasons we like to work with them," Hannu Partanen continues.
"We would recommend Zefort to all companies with medium to small legal teams or companies without in-house legal teams."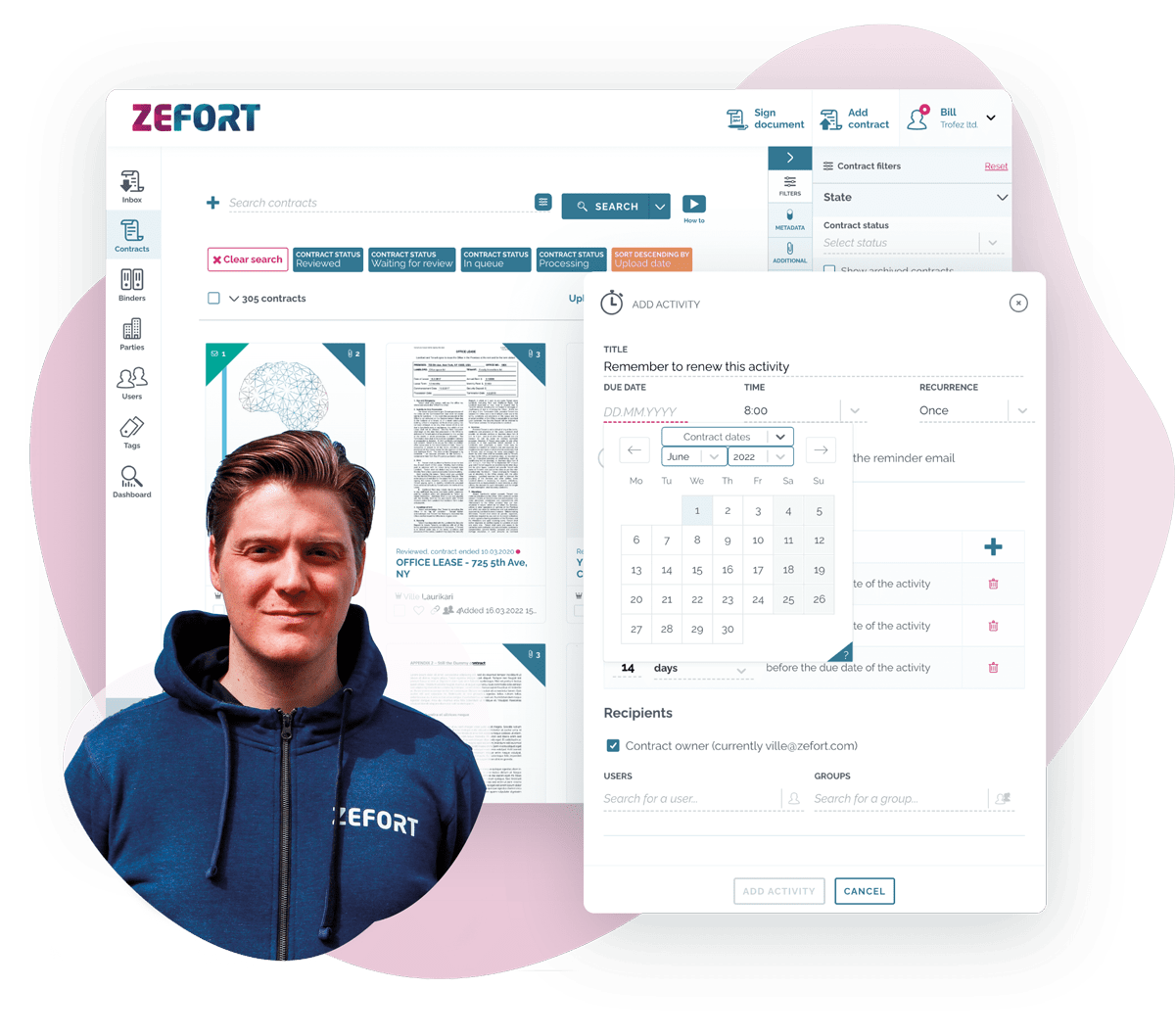 Take a tour of Zefort's key features and see how you can benefit from AI-powered contract management system.