Zefort's contract management scales to hundreds of users
Publicly listed Atria is one of the leading meat and food companies in Northern Europe. Atria employs approximately 4,400 people in Finland, Sweden, Denmark and Estonia. The publicly listed company, founded in 1903, had EUR 1.5 billion net sales in 2020.
Atria's previous contract management system was taken into use in 2014 and was in need of an upgrade. One of the shortcomings of the old system was contract upload, which essentially to some extent prevented the use of the system across different company departments. As a result, some of the contracts were left outside the official contract management processes.
Zefort triumphed in extensive benchmarking
Atria's team started looking for a new contract management solution. As the company already had good tools for preparing and signing contracts, they were specifically after a modern post-sign tool that makes contract management easier.
The team took a wide look at the existing solutions in the contract management space and trialed several tools. The selection process was fairly long and required a lot of effort, but it also gave the team in-depth practical experience on how different solutions actually work.
Ease of use was one of the key criteria for the new solution: Atria wanted to find a modern, flexible tool that makes contract lifecycle management, archival and discovery easy.
Zefort is completely different than our previous solution. Zefort impressed us with its ease of use, adaptability and flexibility. A Google-like full text search was also really good. – Mari Laurila, Risk Manager, Project Manager for the renewal process, Atria plc
In addition to ease of use, Zefort's benefits included boosting efficiency with AI and providing a reliable process for contract life cycle monitoring with email reminders. To top it off, Zeforts information security passed all the checks.
Fluent and automated contract management
Hundreds of employees work continuously with various contracts at Atria. Even though Zefort has not yet been in active use for a long period, the feedback received this far is positive. People find that contract entry is simple and the tool is generally easy to use.
Zefort is also used as a management tool, as the company top-level managers can easily check contractual details themselves in order to support their decision-making.
Atria utilizes customized contract cards for different contracts. For example, Zefort helps matching specific metadata exclusively to certain contract types, which makes contract data entry and management more straightforward.
Zefort gives us automated email alerts and reminders for contract end dates, guarantee periods or contract options, for example. Before Zefort, remembering these things was up to individual people. – Elina Kangas, Legal Counsel, Atria plc
Personal customer service with clear focus
Atria's legal team wants to especially thank Zefort's customer service. Customer service was helpful already in the benchmarking phase, as well as during implementation and legacy contract base migration. Zefort's product development team also listens to customer ideas and requirements.
Zefort gives us quick answers to our questions and problems. Customer service comes with a human face: we get handled by the same people and our needs are cared for. – Mari Laurila, Risk Manager, Project Manager for the renewal process, Atria plc
From the get-go, Zefort came through as a company that puts active work into developing its service while listening to its customers. – Merja Harju, General Counsel, Atria plc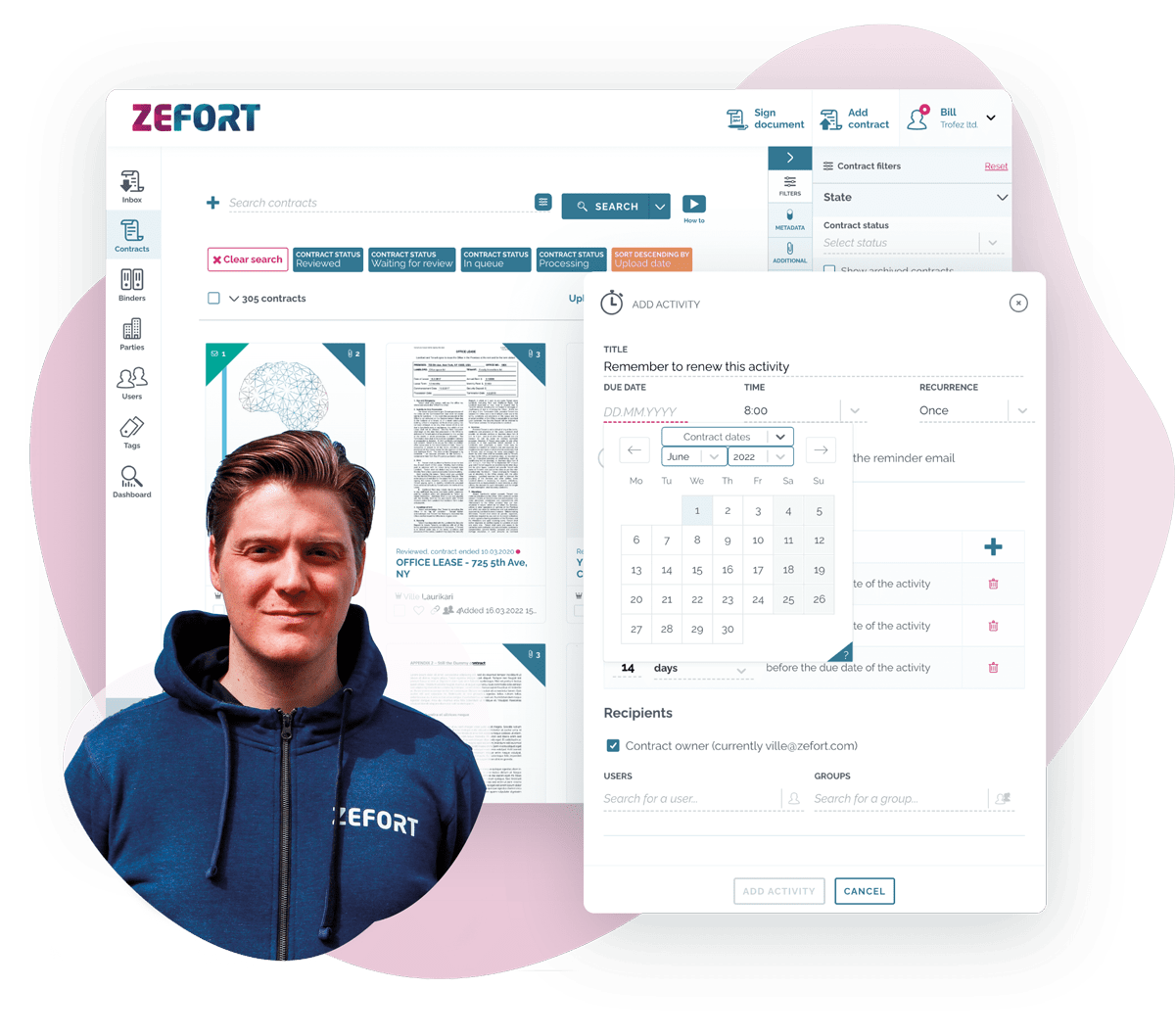 Take a tour of Zefort's key features and see how you can benefit from AI-powered contract management system.