Review and edit signature process
Once you have initiated a signature process, you can edit it. You can review individual signing process on the contract's Signature page, or access all your signature processes in the Signatures tab.
You have the flexibility to change signing order, authentication methods for signature parties, reactivate expired signature processes, and more!
Reviewing signature processes
Open the Signatures tab to review your signing processes. You can find the correct signature using of filters, a free-text search, or by sorting the results.

Signature details
When you click on the signature, a box will open, displaying additional details about the signature process.
File name / signature title
Number of parties and documents
Signature owner
Link to contract in Zefort
Date and time of sending the signature request
Deadline for signing / date and time when document was signed
Signing order (consecutive / parallel / flexible)
Main document and attachments (download the PDF file)
Parties

party name and email
decline reason
authentication method
role

Signature process status
The status of signature process is clearly indicated by both colour and an icon.

Pending – some or all of the parties have not yet approved / signed the document

Signed – all parties have approved and signed the document

Draft – signature request has not been sent for signing

Expired – all parties did not sign the contract before the link expired

Declined – at least one of the signature parties has declined to sign the contract

Canceled – signature owner has canceled the signing process
Editing signature process
Signature functions
After initiating the signature process, you can still edit it (depending on the signature status). Click the menu ••• in the top right corner to access the available options.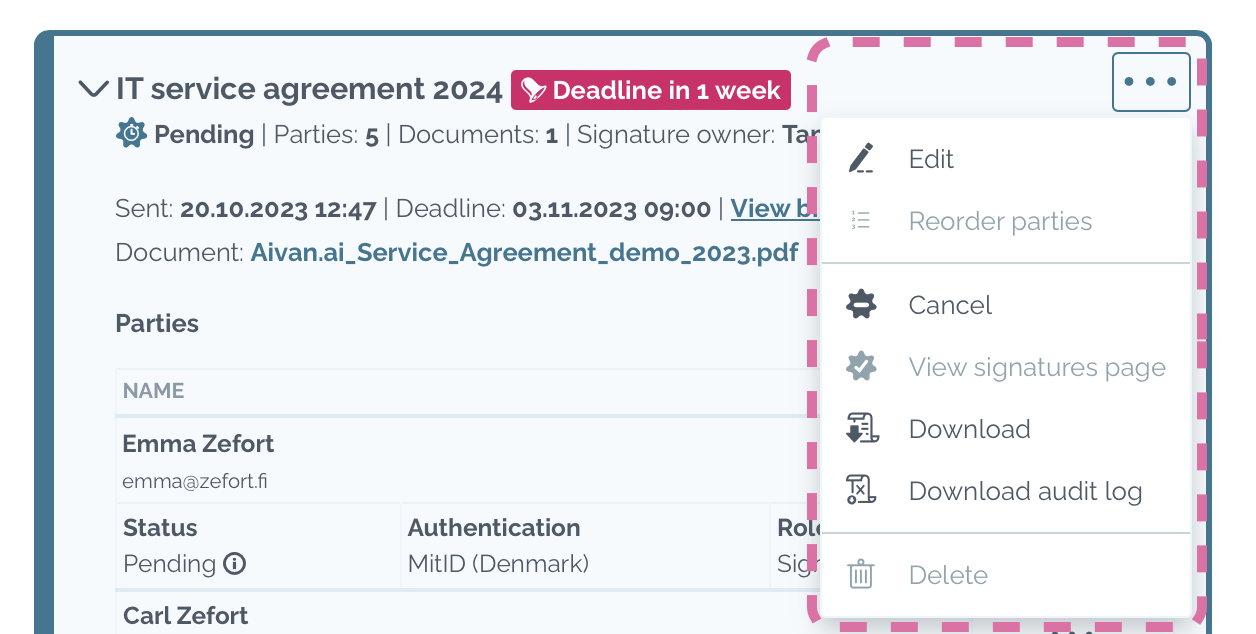 Edit: Change the title, target binder, authentication type, message, expiry of the document and so on
Reorder parties: Change the signing order of the parties that have not yet signed the contract
Cancel: Cancel the whole signature process
View signature page: Open signature page in the document preview
Download: Download the document
Download audit log: Get the audit log of the signature process in .csv file
Delete: Delete the signature process
Resend expired: Activate expired signature process
Editing signature parties
Party functions
You can also edit individual signature parties. Open the signature process box and scroll down to find the signature parties. Click the menu for a signature party to access its functionalities.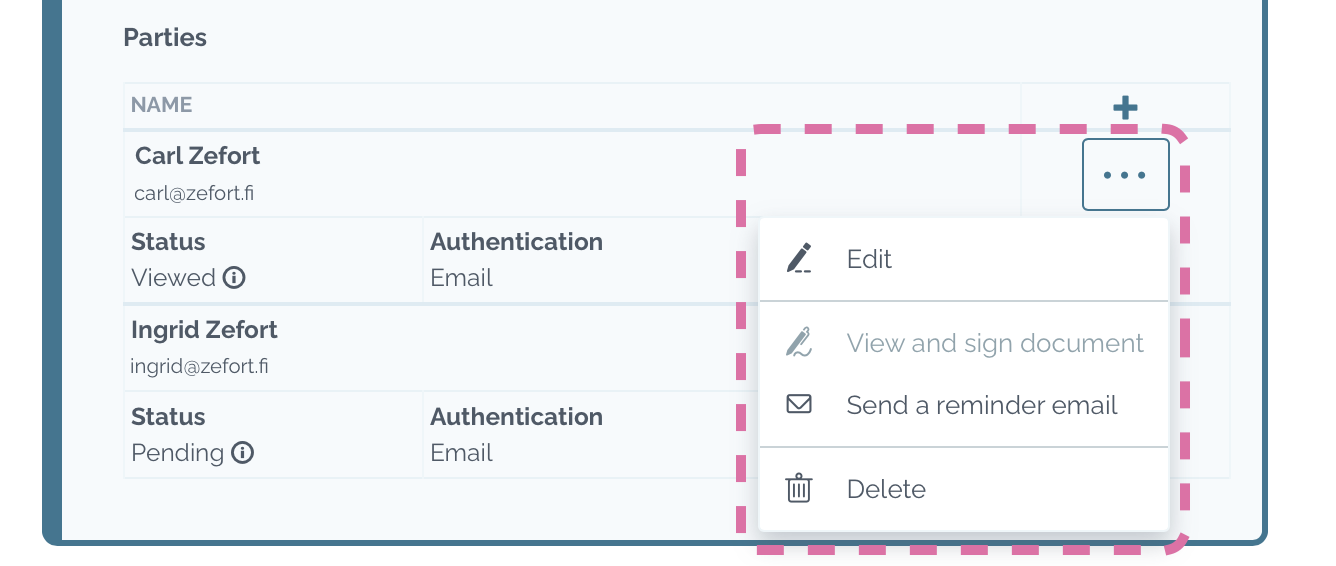 Add a party: to add more signature parties, click the add button
Edit: edit party details
View and sign document: open the document for signing (in case the you are the signing party)
Send a reminder email: send reminder email to signature party manually
Delete: delete a party from the signature process (if the party hasn't signed the contract yet)
Party status glossary
Check the party status, and hover your cursor over the info icon to view the latest action time.
Pending – the signature request has been sent to the party but hasn't been opened
Viewed – party has opened the document
Queued – signature request hasn't been sent yet, it is waiting for the previous parties' approval / signatures
Signed – party has signed the document
Approved – party has approved the document
Processing signing – party has signed the document, the digital signature is being created
Declined – party has declined the signature request
Canceled – the signing process has been canceled for this party
Expired – the signature party has not signed the contract in due time