Zefort helps Castrén & Snellman's attorneys focus on their work
Castrén & Snellman is a law firm that employs 265 persons and provides demanding legal services, including mergers and acquisitions, disputes, and other specialized fields of business law.
The company has a separate Legal Tech team that supports legal professionals and other experts in their work. Together with the company IT, the Legal Tech team ensures that the experts have the best possible digital tools at their exposal.
Castrén & Snellman uses an efficient document management solution that hosts a high volume of documents. As the number of documents kept increasing, the company identified the need for a dedicated contract management solution that would help classifying and separating certain contracts from the rest of the documents. In late 2020, Castrén & Snellman started piloting a contract management solution.
Zefort practically sparked our need for better contract management. Compared to a traditional document management system, Zefort gives more efficient search features, the possibility to organize contracts in a meaningful way and an intuitive user experience. The easier it is to learn and use a digital service, the more experts' time it saves. – Paula Aura, Head of Knowledge Management & Innovation, Castrén & Snellman
In the first phase, Castrén & Snellman uses Zefort to manage its own contracts.
Technologies such as Zefort add value and eliminate boredom by making experts' work more meaningful. Smart contract management represents knowledge management at its best – reliable access to the latest document versions along with good metadata both support real-time access to information. – Paula Aura, Head of Knowledge Management & Innovation, Castrén & Snellman
All contract data in a single location
Zefort's web-based dashboard makes finding the right contracts easy. You can give contract access to just the required people or teams, across company departments if needed. For example, Castrén & Snellman's financial experts can in the future find the contract-related details they need.
Before Zefort, contract data was difficult to manage as it was scattered in my email and our document management system. Now the data is stored in a single place, where I can easily access it and see the documents visually organized. Zefort also sends me email notifications regarding upcoming contract renewals. – Sini Toskala, KM Lawyer, Castrén & Snellman information service manager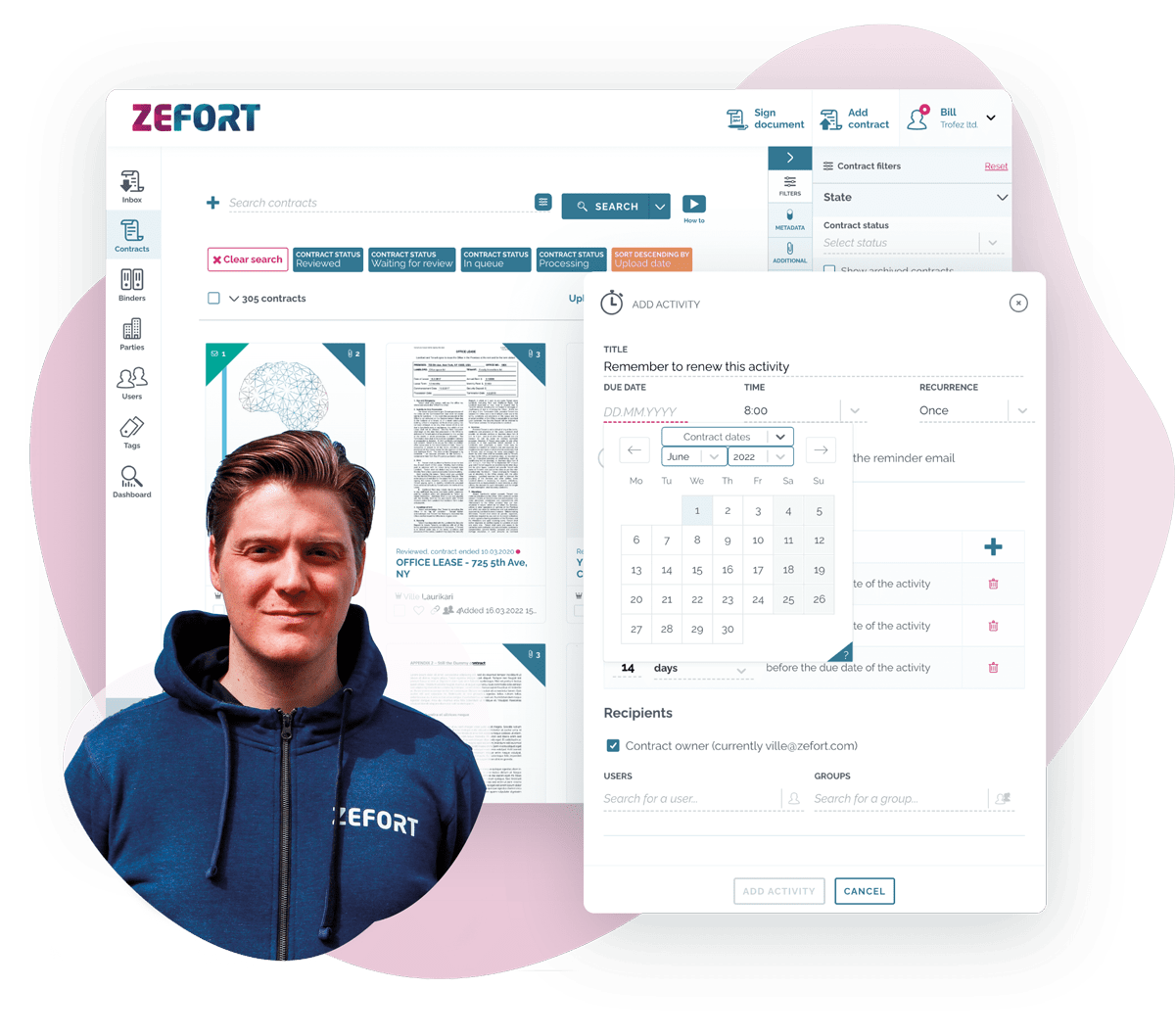 Take a tour of Zefort's key features and see how you can benefit from AI-powered contract management system.