Citrus wanted to eliminate manual work from contract management
At Citrus, the contract management process after the contract was signed had several phases that required manual work. With Zefort, Citrus was able to significantly streamline and simplify the contract management process. Today, Zefort's efficient search features help finding the required contracts quickly.
Citrus is a company that builds easy-to-use, smart digital services that are a part of the everyday lives of many Finns. The products and services are designed to make everyday life and work easier. The company's expertise is to develop easy-to-use solutions to complex problems. One example of such solutions is the award-winning myGDPR service – an easy-to-use enterprise solution for managing data privacy issues.
Before Zefort, Citrus archived its contracts in an information system that required several manual steps for each new contract. The company also struggled with finding the right contracts from the archive, especially if the contract metadata was entered insufficiently.
We wanted to streamline our contract management, as the old post-signing process had several inefficient manual steps. At the same time, we wanted to make contracts more discoverable, as the old search feature was completely outdated compared to Zefort. – Saara Perho, Executive Business Strategist, Citrus Solutions Ltd
When Zefort was taken into use, Citrus renewed the entire contract management lifecycle. Zefort's advanced features gave new possibilities for managing contracts more efficiently. Zefort's excellent usability made it easy for the company to start using the service.
Easy-going cooperation with Zefort
According to Citrus, the cooperation with Zefort's team was fluent, practical and efficient. Citrus was very happy with the cooperation. In the rare occasions that required customer support, help was available quickly and the problems were solved swiftly.
At the end, selecting Zefort was easy. We too build smart, fresh new services and know how much old processes can be streamlined with the right digital solutions. Zefort is an example of such new service.  – Saara Perho, Executive Business Strategist, Citrus Solutions Ltd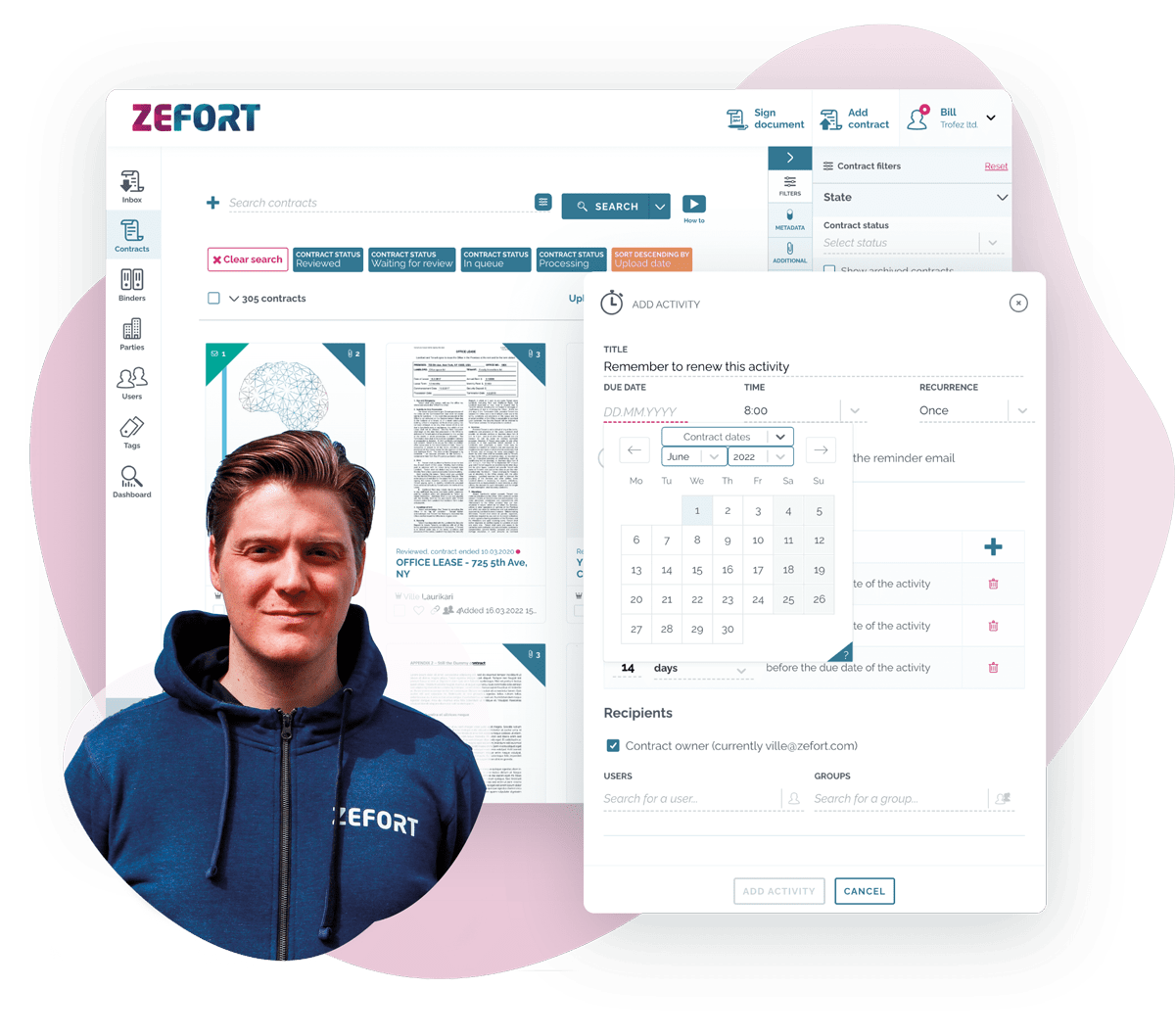 Take a tour of Zefort's key features and see how you can benefit from AI-powered contract management system.