Huntteri finds contract data with easy-to-use search engine
Huntteri used to file its contracts into traditional folders, and financial administration staff sought the required contracts upon request. After employing Zefort's automated contract management, contract data can now be found using an electronic search engine.
Huntteri is the leading bicycle and accessories import and distribution company in Finland. Most of its product range has to do with cycling in all its forms, but the selection also includes products for other sports and leisure activities.
Huntteri had centralised its contract management to its financial administration staff. Once signed, they archived contracts into physical folders and later searched for the relevant contracts for any inquirers.
"Asking for and finding a specific contract always took some time. Sometimes there was also only a single person who knew where to find a specific contract. Unexpected absences could therefore bring significant delay to finding the relevant document."– Juho Huttunen, Sales and Marketing Director, Huntteri Ltd
For Huntteri, the implementation of Zefort's contract management worked out with practically minimum effort for the company. After user training, all new contracts are now sent to Huntteri's Zefort account directly from the scanner. Work situation allowing, existing contract base is also added to the Zefort service in stages.
Artificially intelligent contract registration facilitates contract information entries to a significant extent as it gives a decent head start compared to the traditional, manual entries.
Never misplace a contract again
The powerful Zefort search functionalities have especially been welcomed by the Huntteri team. The 'Google-like' search throughout contract and appendix texts helps find the relevant contracts even when it is not clear which particular contract is being searched for.
"With Zefort's excellent search functionalities, I am now able to search our contracts for specific phrases, for example." – Juho Huttunen, Huntteri Ltd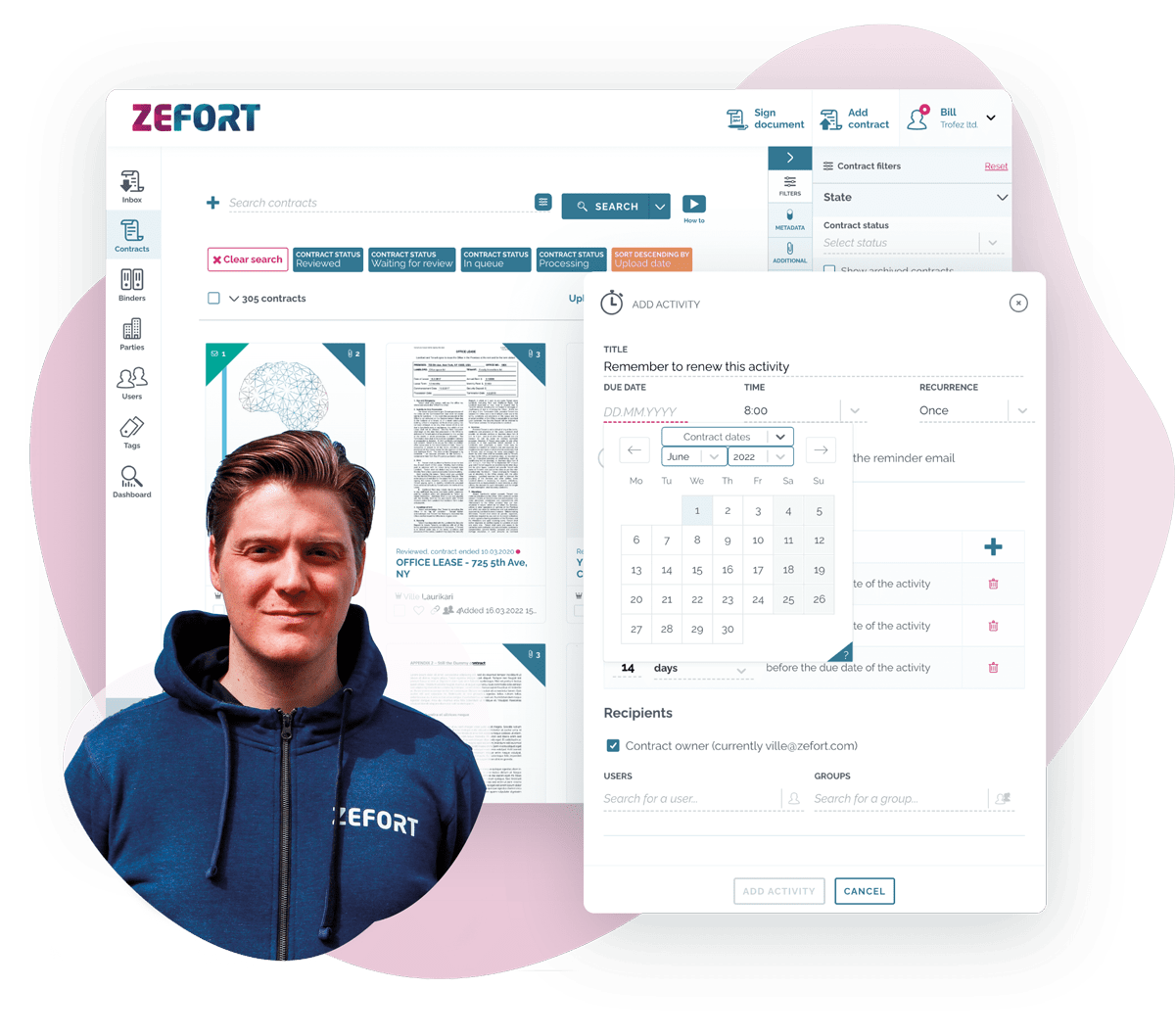 Take a tour of Zefort's key features and see how you can benefit from AI-powered contract management system.