UNA streamlined its processes with Zefort
Owned by hospital districts, municipalities and joint municipal authorities, UNA Oy is a company that manages social and healthcare development duties for its owners. UNA offers development and expert services, and also forms a centre of excellence that promotes the wide use of development work results within the UNA community.
Contracts are a key aspect in UNA's work. In addition to its development duties, UNA's operations are fundamentally based on contract management and existing contracts. The company has operations in several municipalities, and before Zefort, contracts were often only archived on paper. When in need of contract copies, papers were often sent by mail between the different offices.
Lighter processes, less unnecessary work
For UNA, the main goals for acquiring an electronic solution were to eliminate needless overlapping work, to make processes lighter and to improve risk management.
After comparing various contract management services, UNA decided to opt for Zefort's digital contract archiving system. Compared to other solutions, Zefort's assets included user-friendliness, cost advantage and flexible integrations with other solutions.
We were thrilled about Zefort's user interface and ease of use from the get-go. After a few months of use, we are pleased to say that, for once, there's an IT service that does not increase our work load – quite the opposite! – Johanna Sorvettula, Leading Legal Counsel, UNA Oy
No need for heavy implementation project
Among Zefort's numerous features, UNA especially appreciates the effortless contract import into the system with a single email, contract-related reminders and notifications, search features and, all in all, the ease of finding contract information quickly when needed.
Taking the cloud service into use was quick and easy, and it required no significant resources on UNA's part.
During my professional career, I have participated in a variety of contract management solution deployments, and they have all required a heavy IT system project. With Zefort, taking the service into use was truly easy and we faced no change resistance – Zefort is a pleasure to use. – Johanna Sorvettula, Leading Legal Counsel, UNA Oy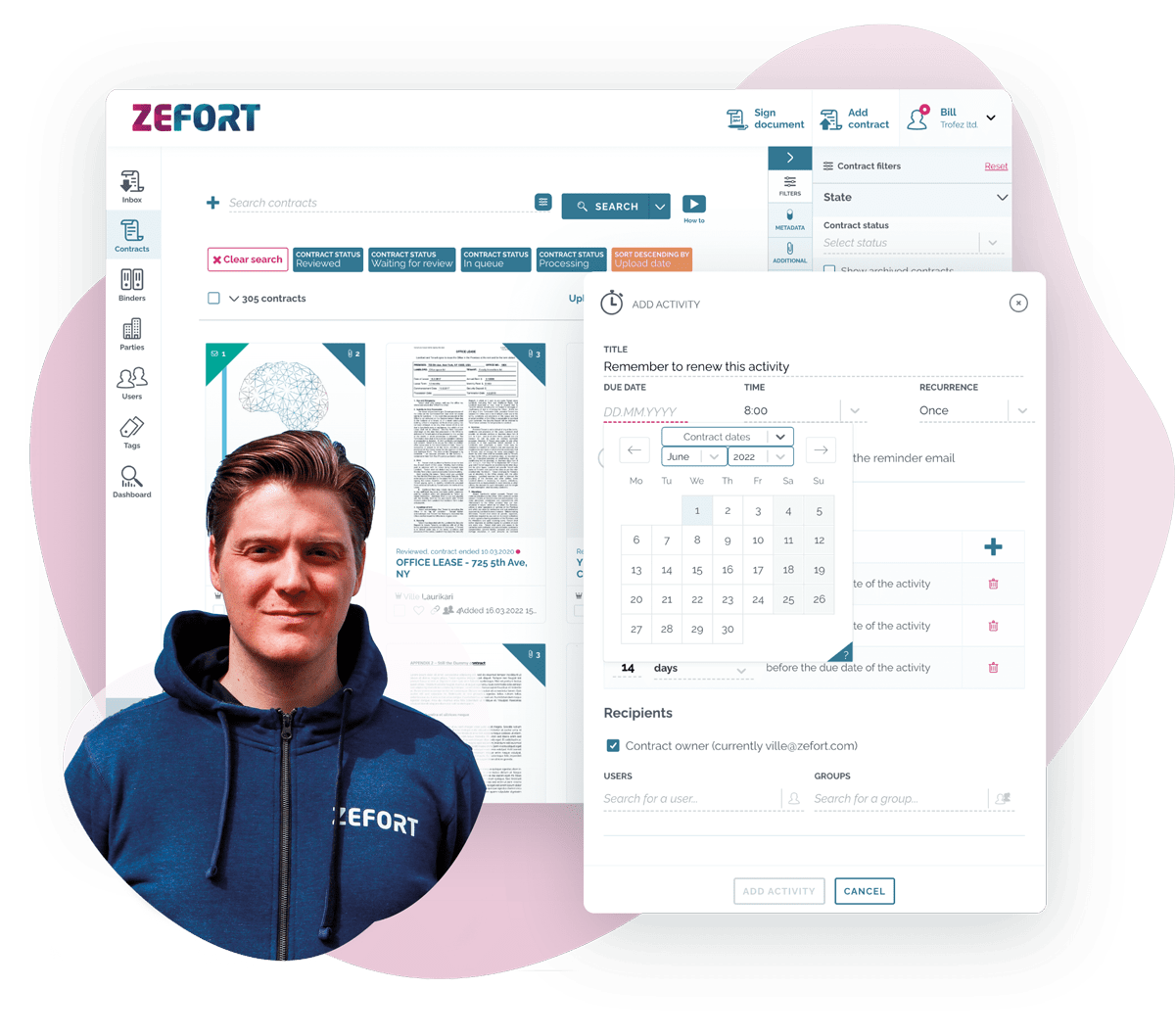 Take a tour of Zefort's key features and see how you can benefit from AI-powered contract management system.