Zefort contract archive integrates seamlessly with Vincit's electronic signatures
VincitSIGN is an electronic signature service based on strong user identification. Vincit was looking for a partner that could provide contract archival features. Once Vincit met Zefort, the company also decided to take Zefort's easy-to-use contract management service to its internal use.
VincitSIGN is one of Vincit's key software products. With VincitSIGN, customers get a customizable online signing service that provides authentication via strong online user identification.
With VincitSIGN, users can sign contracts efficiently, automatically and at a low cost using a simple web application. However, Vincit's clients were also interested in the next process step, an easy online contract archival. Zefort's features, ease of integration and agile company culture convinced Vincit that Zefort was the right partner for the job.
Modern SaaS service look and feel, enterprise-grade features
The key benefits of Software-as-a-Service products, such as VincitSIGN and Zefort, include easy commissioning and excellent service availability online. At the same time, SaaS customers have come to expect a modern look and feel and a great user experience with modern services.
Zefort's user interface looks professional and fresh, showing it to customers is a real pleasure. The same appeal carries to practical cooperation, as Zefort is an easy-going, pleasant partner. – Ilkka Ventus, VP Sales & New Business, Vincit
Even though Zefort is a fairly new solution to the market, it has enterprise-grade features that are essential for many customer segments.
Zefort has prioritized enterprise requirements from the start, including single sign-in and audit logs. Features such as these are absolute must-haves in certain domains, such as the financial sector. – Ilkka Ventus, VP Sales & New Business, Vincit
Positive experiences at Vincit
Despite being a listed company, Vincit has a strong startup-oriented and agile company culture. An apt example of this is that the company uses its own solutions in its daily operations. In fact, Vincit uses Zefort's solution today to manage VincitSIGN-related contracts.
Based on personal experience, Zefort's AI works really well. After uploading just a few contracts, the AI can automatically suggest 90% of the metadata details needed for contract archival. This saves a lot of time. – Ilkka Ventus, VP Sales & New Business, Vincit
In the future, contract archiving will become even easier due to direct integration between Zefort and VincitSIGN.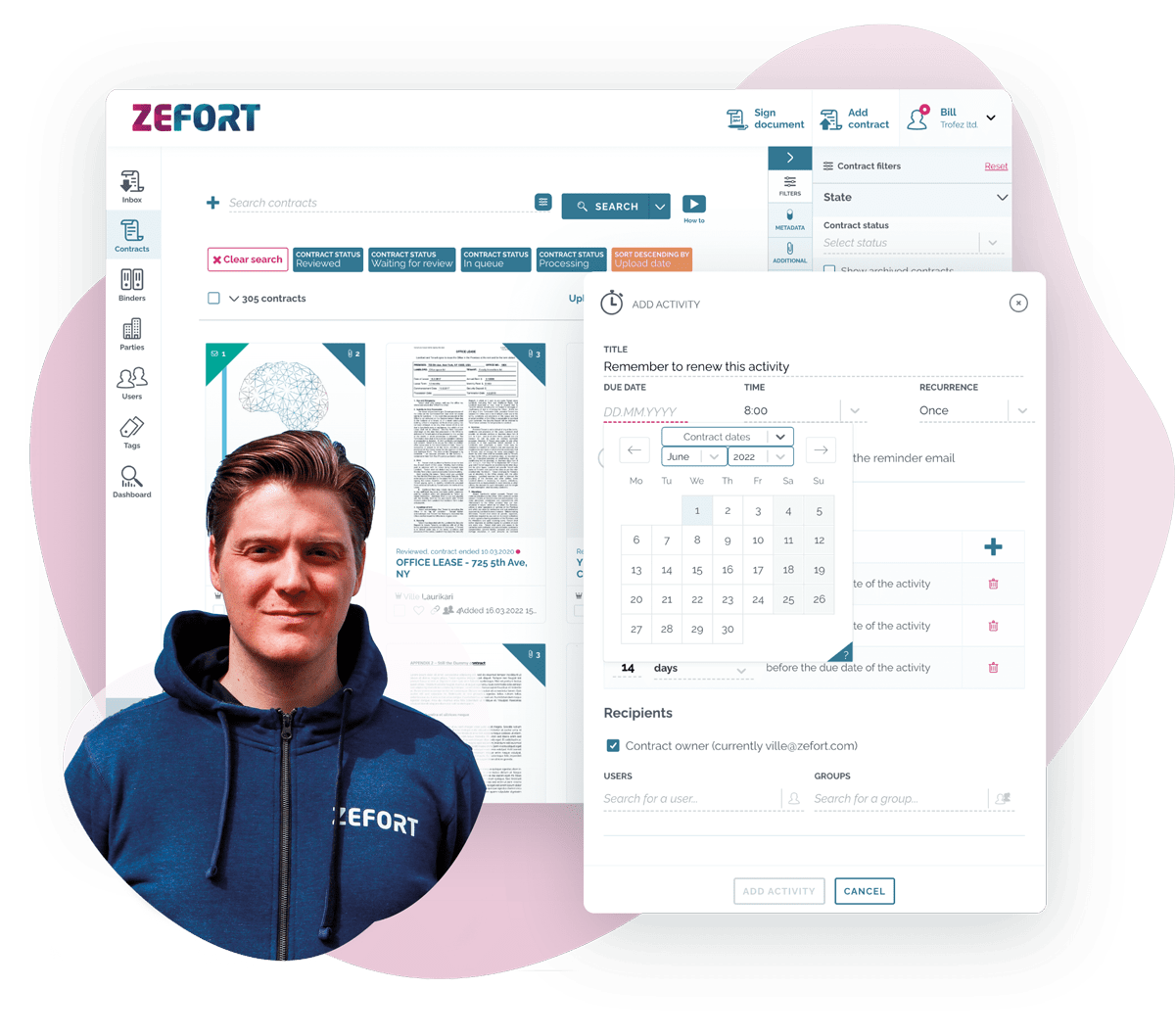 Take a tour of Zefort's key features and see how you can benefit from AI-powered contract management system.