How to add a new contract?
Adding a new contract
You can add contract to Zefort either by email or from the application.
By e-mail
Easiest way to add a new contract to Zefort is to send it by e-mail. Copy your Zefort email-address from the My settings –menu.
Video below shows how to do this.
Using the application
You may also add one or multiple new contracts to Zefort directly from the application.
➜ Sign in to Zefort
➜ Click on

"Add Contract" -icon (top right corner).
This will open the upload pop-up.
➜ Our AI picks the contract title automatically from the main document but if you want, you can enter your contract title manually.
➜ You can create empty contract without files or add files to it. Enter contract title and click "Create" –button, if you wish create empty contract. Otherwise select files for your contract.
➜ Drag the contract file(s) on upload pop-up window.  Alternatively you may click the "Select file(s)…" –button to open the file browser and select the file(s) using it.
➜ You may upload several files at the same time: either as a single contract (all files are related to this same contract) or each file as a separate contract (switch on the bottom of the upload dialog).
➜ If you upload several files as one contract, mark the main contract file by clicking on the contract, NOTE! The main contract must in .pdf or .tiff format.
➜ You can select binder where contract is placed. Contract is also placed in to the default binder that is defined in My settings -page.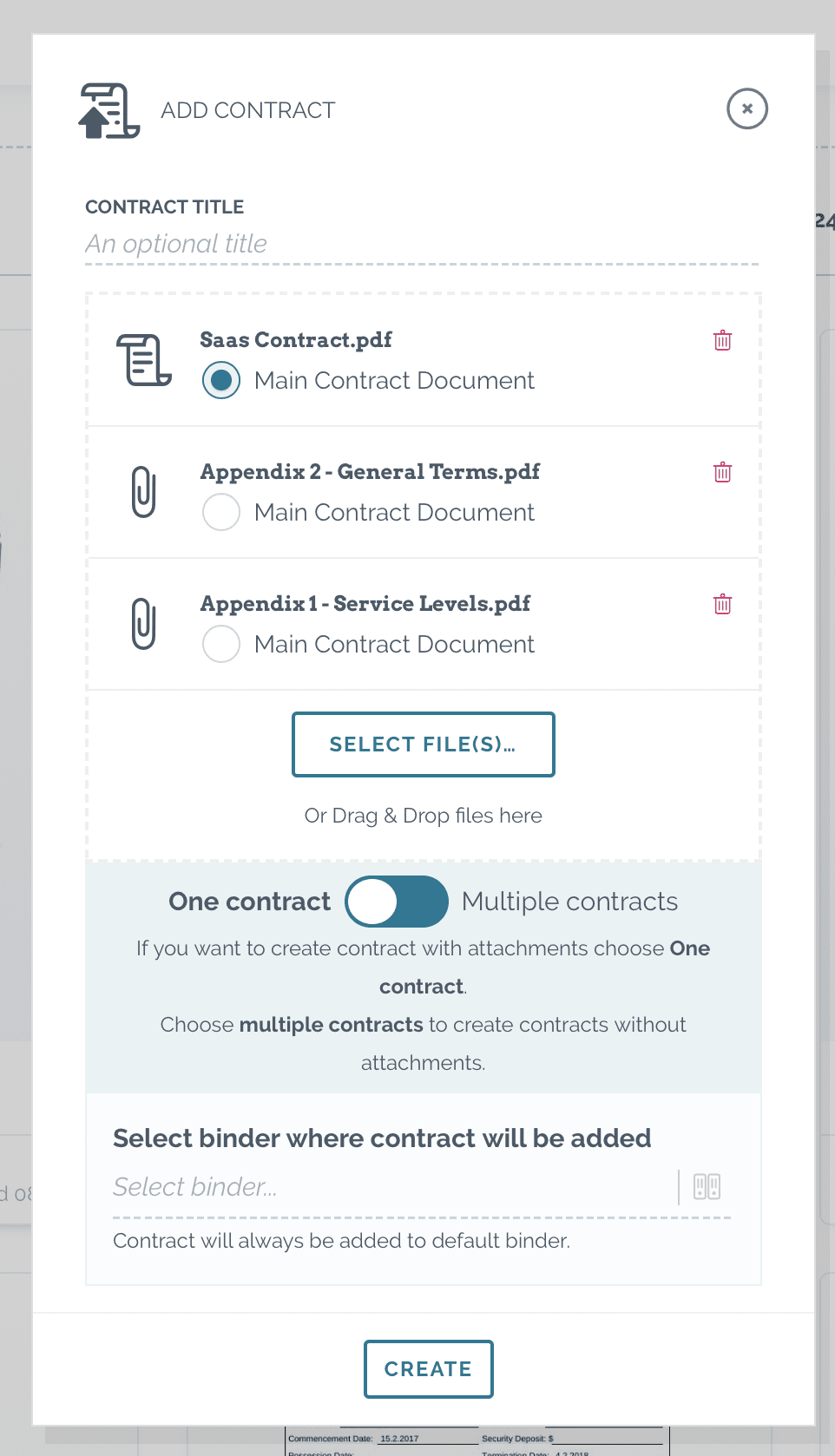 ➜ Finally, click on "Create" –button to create the contract. Progress bar will appear if you added files to your contract.
Your contract(s) will now appear in "Inbox" –view. It will go through the very same AI process as if sent by e-mail. You may click on the contract thumbnail and enter the same review screen as in e-mail process.