Faron adopted a modern contract management solution
Zefort provided Faron with an easy-to-use solution for contract management, giving the biopharmaceuticals company full transparency to its contract base regardless of location.
Faron Pharmaceuticals is a clinical stage biopharmaceutical company that focuses on developing new treatments to illnesses that are currently lacking proper treatment options. The company's drug development programmes are based on receptors that control and mediate immune responses in oncology and organ injury. Faron's stock is listed in the London AIM and First North Growth Market exchanges.
Simple deployment, easy to use
Faron's team felt that Zefort was a good solution from the very first demo session. After an easy, no-hassle implementation phase, the team's impression of an efficient and easy to use solution has solidified.
Zefort really hits home with its user interface and service design. Using the service simply feels pleasant.. – Pessi Honkasalo, General Counsel
For Faron, the most important individual features are contract activities and related reminders, as well as free text search that reaches the entire contract base textual content, all contract attachments and stored emails.
"Good visibility to all contracts no matter where you are"
Zefort gives us great visibility to our contract base. While metadata traditionally holds an important role, this is not as much the case with Zefort – you can easily find contract details that are not specifically classified as metadata. Also, now as the Corona pandemic forces people work from their home offices, being able to access the full contract archive from anywhere has proven to make work really efficient. – Kaisa Kyttä, Corporate Counsel
All in all, cooperation with Zefort has gone very well and Faron gives special thanks to Zefort's quick and positive customer service!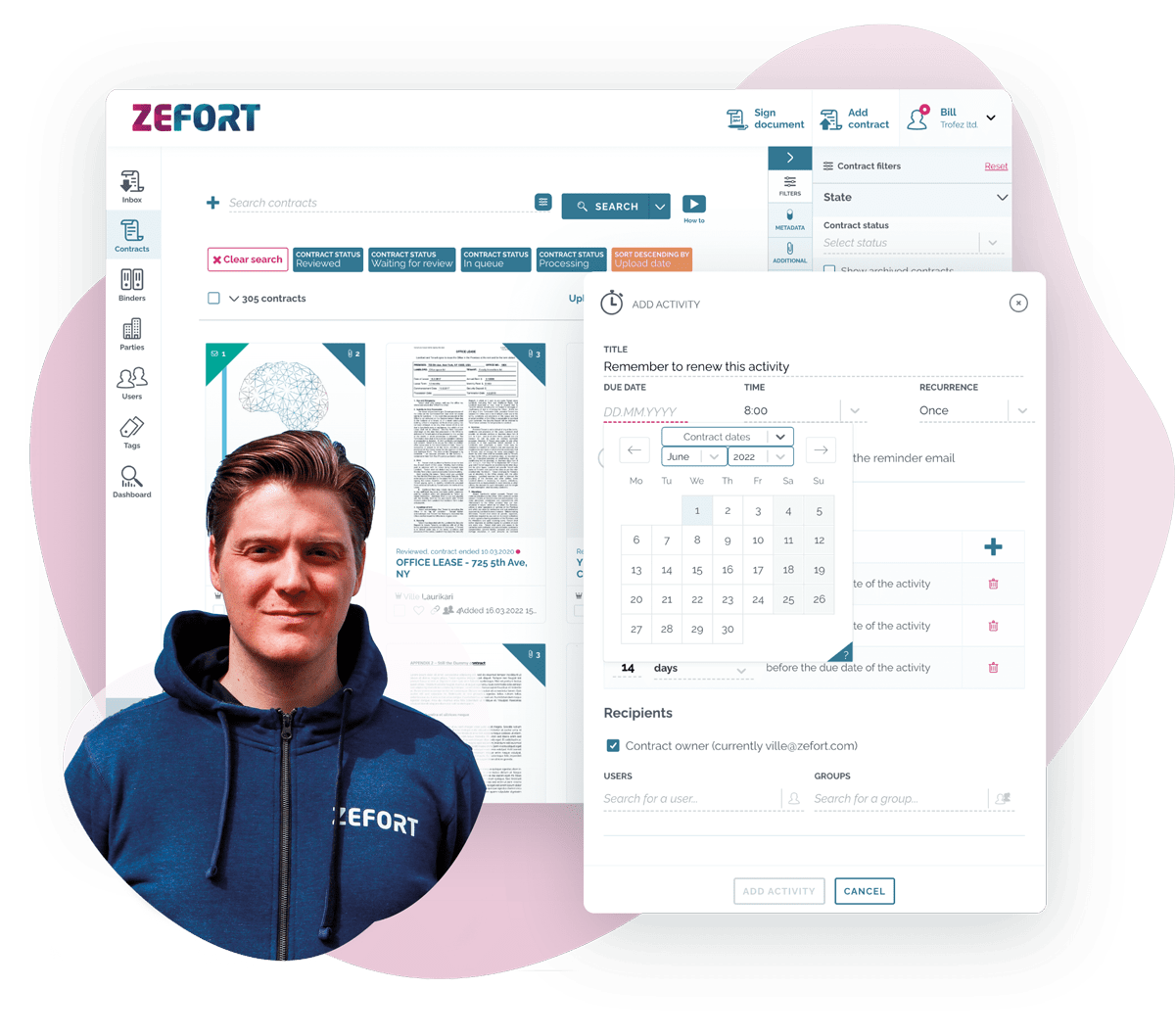 Take a tour of Zefort's key features and see how you can benefit from AI-powered contract management system.