Zefort helped event company Lyyti save €30,000 annually with a contract takeover
Scattered contract data cost Lyyti previously over €30,000 year after year. Zefort's contract management solution automated Lyyti's contract maintenance. The contracts are now easily accessible in the cloud and Lyyti has eliminated its extra expenses.
Lyyti's online event service is used by over 10,000 people in dozens of countries. It is annually used for organising over 50,000 events around the world. While Lyyti's CRM and HR contracts were well-organised, various procurement contracts were scattered around the organisation.
The company had no clear understanding of which contracts were still valid and which were about to expire or renew. Consequently, the management was unaware of the total amount of and the real need for services that nonetheless brought recurring expenses.
"At worst, contract data hidden behind various user accounts, credit cards and emails cost us €30,000 a year."- Petri Hollmén, CEO at Lyyti
Lyyti took steps to get organised by collecting scattered contracts around the organisation. This one-time project brought significant cost savings, as it allowed cancelling unnecessary and overlapping contracts. Very soon it became apparent, however, that a one-off project was not sufficient: the challenges keeping contract data up-to-date persisted.
Automated maintenance with Zefort contract management
Lyyti decided to solve its problems by employing the Zefort contract management solution. Zefort's AI-based solution was taken into use for all contracts with the exception of client and employment contracts, which were already well on the rails.
The transition to Zefort's automated contract management began with planning the process and allocating responsibilities. Who gets a user ID to the cloud service? Which access rights are the users given? In future, how will all new contracts be added to the system?
The ease of entering new contracts was key in the renewal. What Lyyti decided in practice was that the whole organisation would be advised to simply send new contracts to a specific email address. In the next step, the contracts are directed to Lyyti's contract manager's account within the Zefort service. The contract manager then checks the contract and approves it for the system. At this stage, it is also possible to add various activities to the contract to get automatically notified of expiry dates, for example.
All contracts easily at hand
Today, Lyyti is glad to have all contracts easily available in a single secure cloud service. Useless contracts can be easily terminated and the continuity of important contracts can be ensured reliably.
"With Zefort, Lyyti's employee simply issues a new contract and then sends it to a dedicated email address. Artificial intelligence takes care of almost everything else. Now we have a clear overall understanding of our contracts." – Juhani Siro, Contract Manager, Lyyti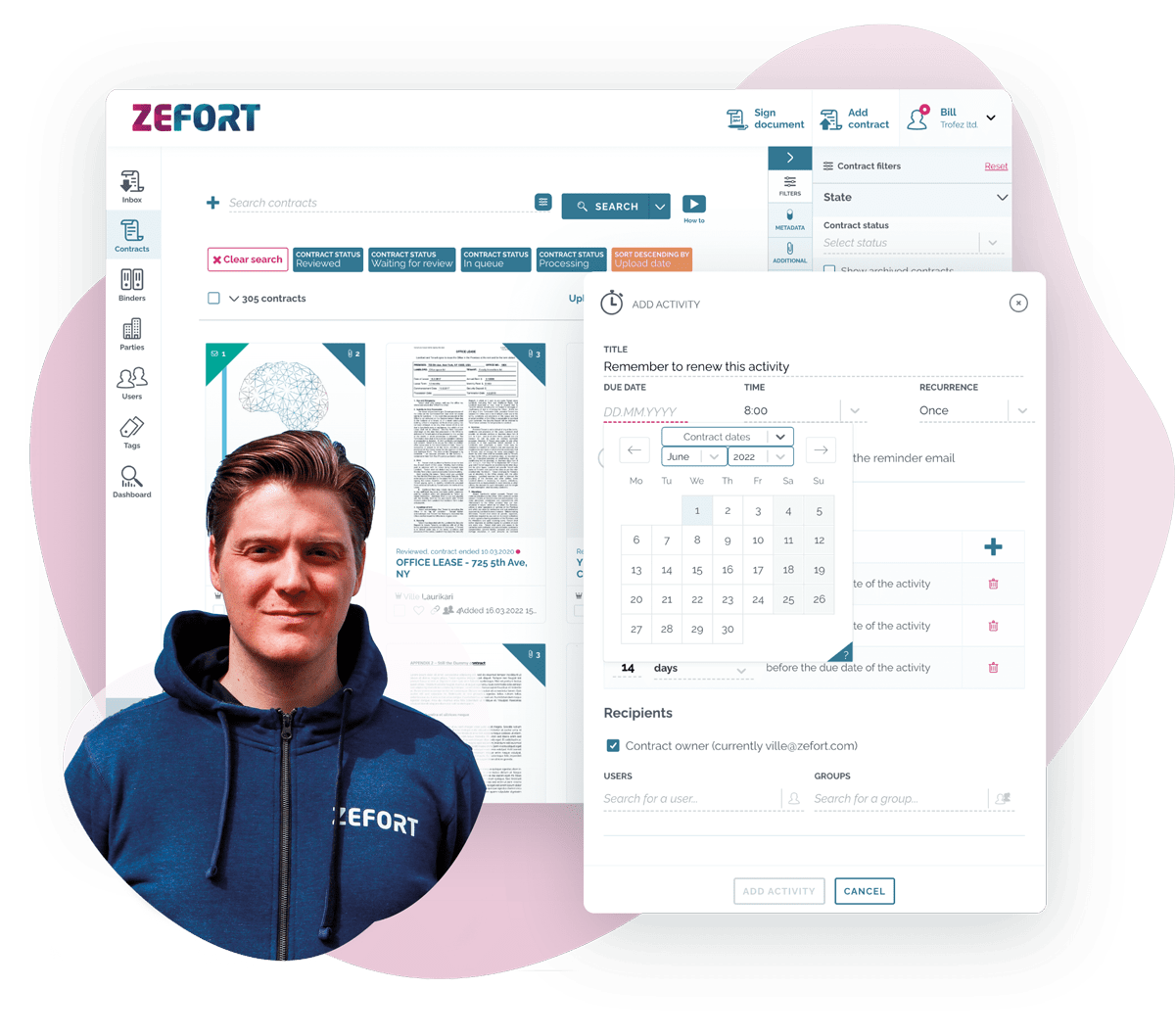 Take a tour of Zefort's key features and see how you can benefit from AI-powered contract management system.