Dutch company Olympia replaced inefficient contract management with Zefort
Olympia is a Dutch company dedicated to connecting talented employees with employers. With more than 130 branch offices all over the Netherlands, the company's 900 employees, franchisees and partners helped nearly 47,000 people find meaningful work in 2021 alone.
Before starting to use Zefort, Olympia did not have a dedicated contract management system. The company used Microsoft SharePoint to share documents but it wasn't really working out – the legal team did not have enough control over the documents and the tool was missing important features such as notifications.
Easy contract management with Zefort
For Olympia, one of the key criteria for the new contract management solution was the ease of use. If the tool was slow, difficult or complex to use, the chances are that no one will actually use it.
After comparing several Dutch and international contract management solutions, Olympia finally chose Zefort as its new tool for managing contracts.
"While many contract systems are complex, Zefort is really easy to use. It's easy to add contracts and find the information you need quickly." – Inge Carton, Head of Legal, Olympia
Today, Zefort is used by approximately 50 people at Olympia – in addition to the legal team, the solution is used by support, facility management, finance and franchising teams to manage 1,000+ contracts.
AI automation, reminders, eSignatures and more
Zefort provides Olympia with the benefits the team was looking for: better control over all contracts in the company, reminder notifications of important contract dates and smart Google-like search that quickly finds contracts with specific text.
In addition, the team is really happy about Zefort's artificial intelligence (AI) feature. Zefort uses AI processing to automatically look up contract metadata, which in turn reduces manual work in contract upload, for example.
"Zefort's AI works perfectly and helps get contracts into the system quickly. It works well with documents in the Dutch language and speeds up our work." – Inge Carton, Head of Legal, Olympia
In addition, the legal team appreciates that they can use Zefort's built-in eSignature feature for managing the digital signing process better.
"I definitely recommend Zefort to anyone who wants to take better control of their contracts." – Inge Carton, Head of Legal, Olympia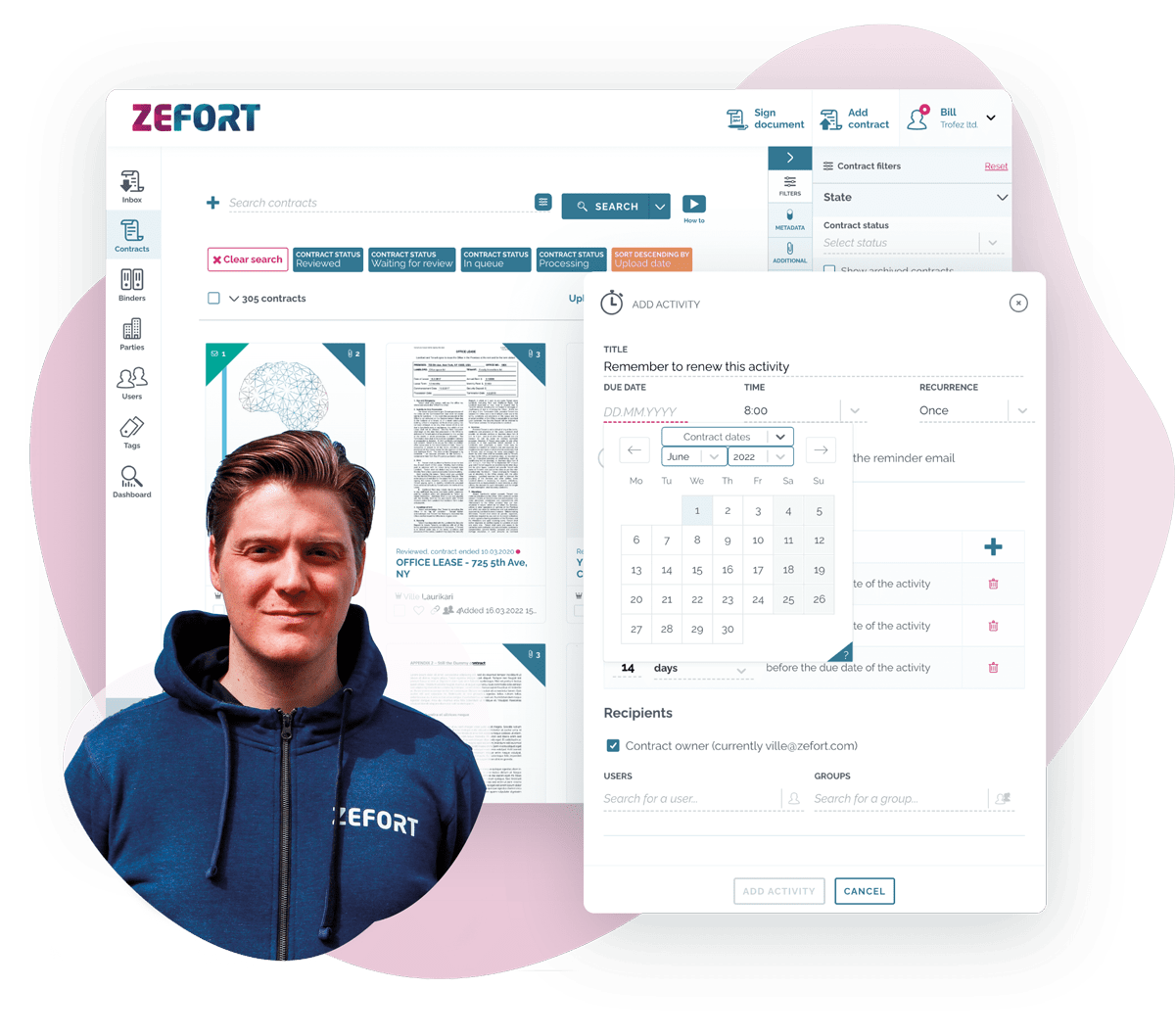 Take a tour of Zefort's key features and see how you can benefit from AI-powered contract management system.