Sarastia digitalized contract management in business merger
The Finnish public services development company Sarastia wanted to improve its contract management capabilities at a point where two companies merged together. Zefort helped the companies bring their contract bases together in a centralized archive without a time-consuming implementation project. Nearly a year later, Sarastia values the ease of finding contracts through Zefort, the simplicity of using the service and the responsiveness of the customer support.
Sarastia is Finland's largest service partner for business and personnel administration support in the public sector. Sarastia produces and develops versatile services for its 270 municipality owners across Finland. Sarastia was founded when two companies, KuntaPro and Taitoa, merged in 2019.
Before the merger, the companies maintained their contracts on network drives and desktops, making it difficult to find and modify just the right contract versions. At the same time, Sarastia expected the need and volume of managed contracts to see a steep rise.
Zefort beat the competition
Sarastia started looking for a new contract management solution by comparing various alternatives available on the market. While considering its options, the company was interested in easy implementation and the potential of artificial intelligence in contract management, for example. Since a number of people were going to be using the new solution, user experience was also given weight.
Zefort helped us digitalize our contract management and made the company merger easier. I find it great that we now have a functional solution developed by a rising new software company. – Tero Karinti, Director of Customer Relationships, Sarastia
Sarastia uses Zefort to manage a wide variety of contract types, from project delivery contracts to framework and service agreements.
Amazingly good customer support
Sarastia's team has been especially happy with using Zefort's simple user interface, finding contracts quickly with a google-like search and browsing contracts in general. In the past, when contracts were kept on network drives, finding just the right document required opening lots of files and moving around in various folders. Now, browsing contracts with Zefort's document preview is a lot faster and more efficient.
Sarastia has also been impressed by Zefort's customer support.
Zefort's customer support works amazingly well – support requests get replied really fast. It's great to know that your business is being taken care of even though a possible software update might take a while. – Anssi Tuisku, Sales Coordinator and Zefort key user at Sarastia
Zefort users get a brief training to the software and Sarastia's own practices via a Teams online meeting. Overall, users have found the service to be easy to use during their fast-paced everyday work.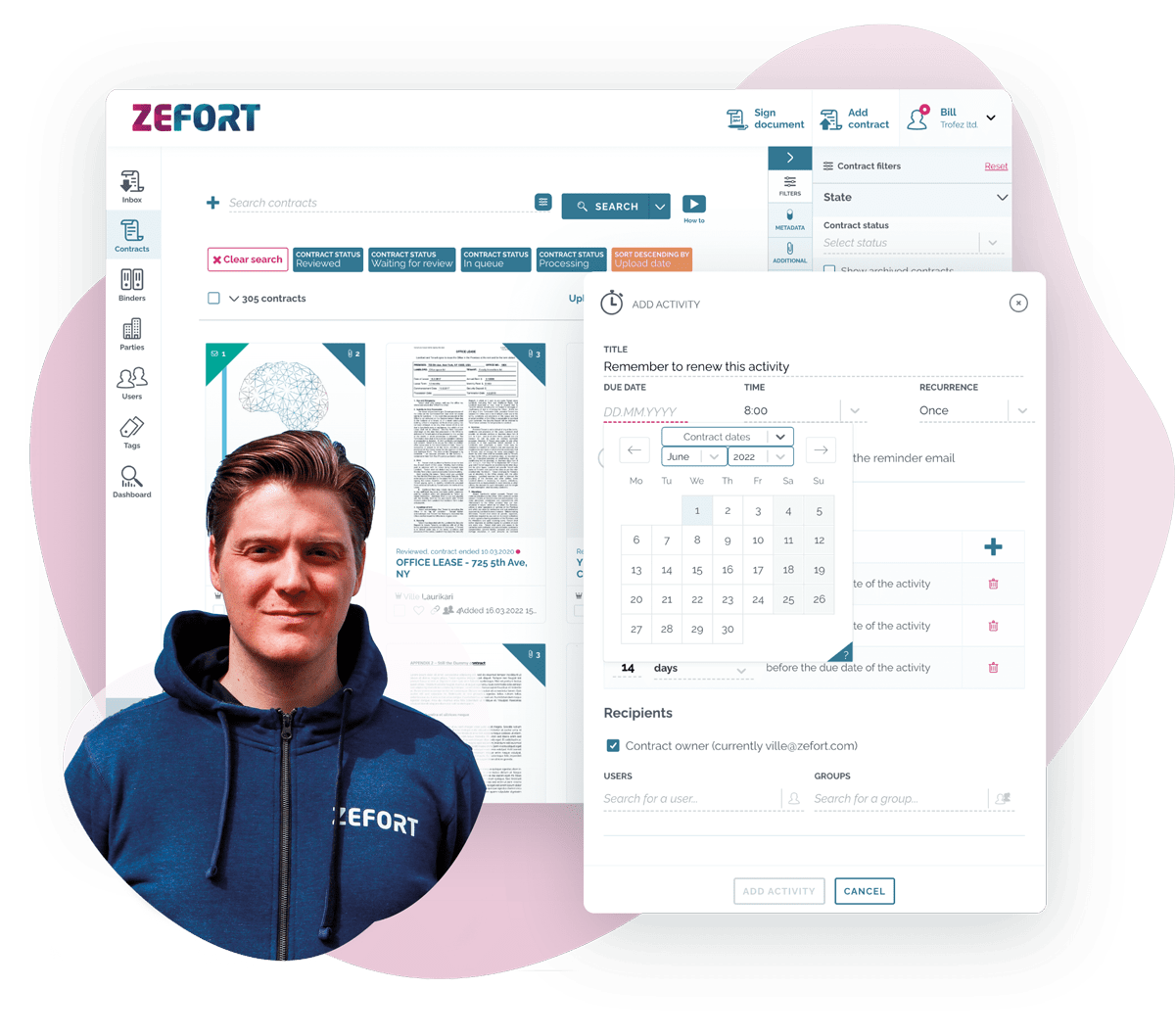 Take a tour of Zefort's key features and see how you can benefit from AI-powered contract management system.