Yousician manages all its contracts with Zefort
Yousician is a revolutionary music platform for anyone to learn, play, create and teach music. With over 832 million songs played on Yousician, millions of people around the world have used the award-winning app to improve their music skills and learn the music they love.
Before Zefort, Yousician experienced the same problems many fast-growing companies do. Contracts were not properly managed in one place. Looking up the right contract version, managing access rights and staying on top of contractual dates started to take too much effort.
"Have you heard about this new contract management solution…"
The team had already heard positive feedback about a new contract archive service called Zefort. After evaluation, Zefort seemed to tick all the relevant boxes.
Zefort's features simply save our time and effort. Automatic integration with our go-to eSignature service is simply amazing. – Kaisa Sosala, Zefort key user at Yousician
Getting the cloud service up and running was easy as no installations were required. Yousician started by uploading all contracts to Zefort. Finding and adding all existing contracts took a while, but from now on, all electronically signed contracts are automatically added to Zefort.
Centralized home for all contracts
Today, Yousician uses Zefort to manage all the company's contracts.
Zefort makes finding just the right contract easy. Contract metadata, such as termination dates and contract parties, helps to browse contracts or set up automated actions or reminders. What's best, all contracts now have a dedicated home.
The implementation process went smoothly thanks to Zefort's proactive and extremely helpful team. Zefort's tool is intuitive and easy to use and allows us to concentrate on things that have real impact. – Jenni Kyntölä, General Counsel at Yousician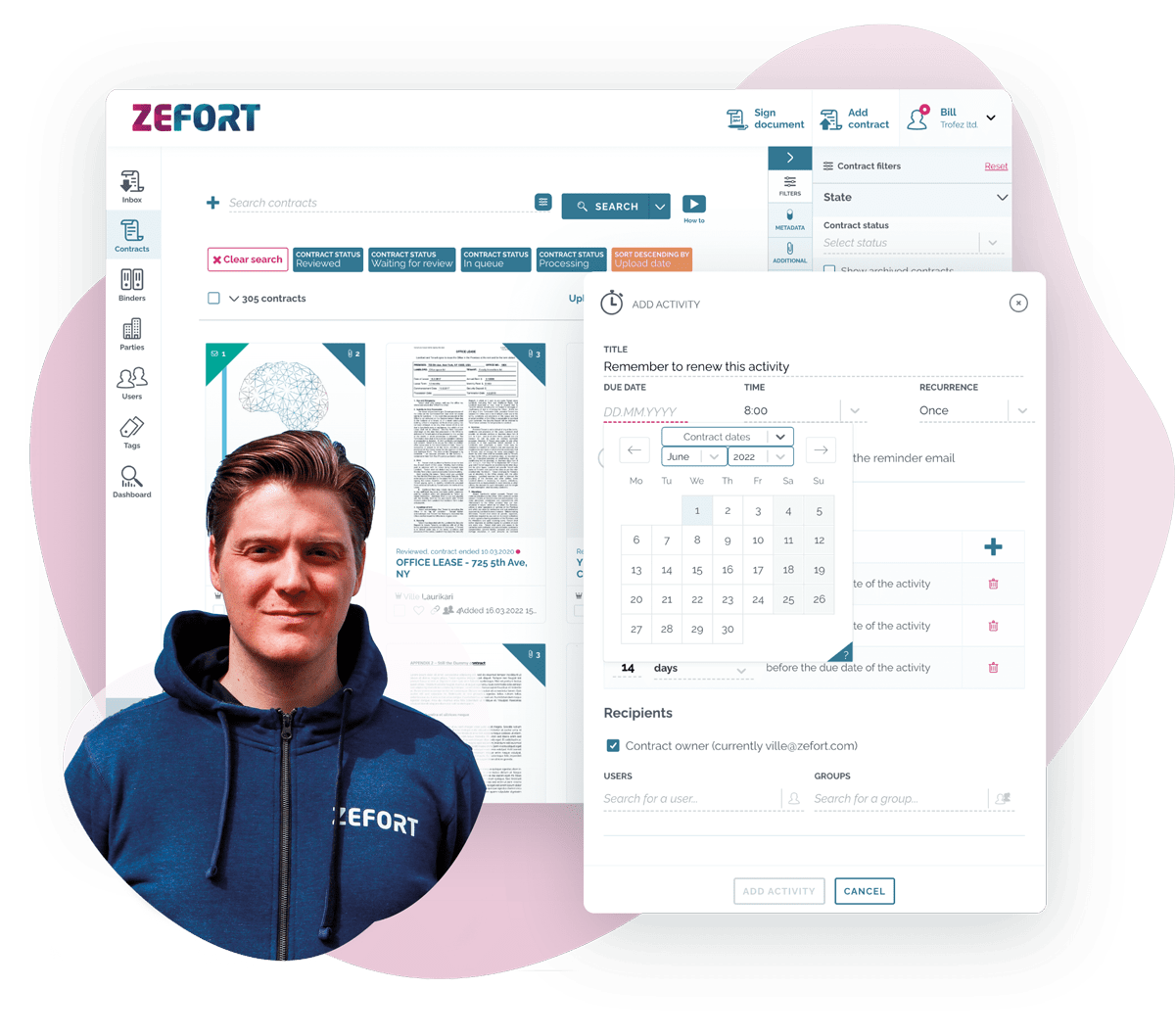 Take a tour of Zefort's key features and see how you can benefit from AI-powered contract management system.