AI listed 3 Step IT's client contract responsibilities
IT expert company 3 Step IT decided to harness artificial intelligence for client contract reviewing. The Zefort system read through the contract mass and picked up desired attributes in the contracts.
3 Step IT is a leading international expert in life cycle management for IT equipment. The company operates in ten countries and helps approximately 4,000 client companies with their IT equipment life cycle management. While doing so, 3 Step IT complies with the principles of information security and the circular economy. In total, 3 Step IT manages approximately two million IT devices.
The client contracts of 3 Step IT had been scanned into an electronic format and stored online. Due to lacking meta data, however, it was difficult to review the options selected in the contracts and to get a comprehensive view of the responsibilities and obligations specified in them.
The company was seeking a way to best update the meta data without excessively burdening its experts. As a technological trailblazer, 3 Step IT found it natural to put Zefort's artificial intelligence into work and have it review the contracts.
AI extracted selected attributes from contracts
At first, 3 Step IT specified the attributes it wanted to extract from its individual contracts. In this case, these included information on the contract parties, service listings and any SLA information. After the specification phase, Zefort's artificial intelligence searched through over 3,000 client contracts. Some of the contracts were in Finnish and some in Swedish.
Artificial intelligence managed to recognise a part of the attributes with great precision. With some attributes, the Zefort system was able to find the sentences that dealt with the theme, after which an expert from 3 Step IT made the final interpretation.
"We found the results to be good. Our cooperation with Zefort was really smooth and the project met the goals that we had set."
Sanna Vilén, Project Manager, 3 Step IT.

"We are eager to test artificial intelligence as part of our solutions. With the right application and purpose, this technology can be used effectively."
Sari Leppänen, CIO, 3 Step IT

"Making use of technology allows human experts to save time for more sensible tasks. The project we carried out with Zefort helped us optimise our operations." Janne Silvonen, Legal Counsel, 3 Step IT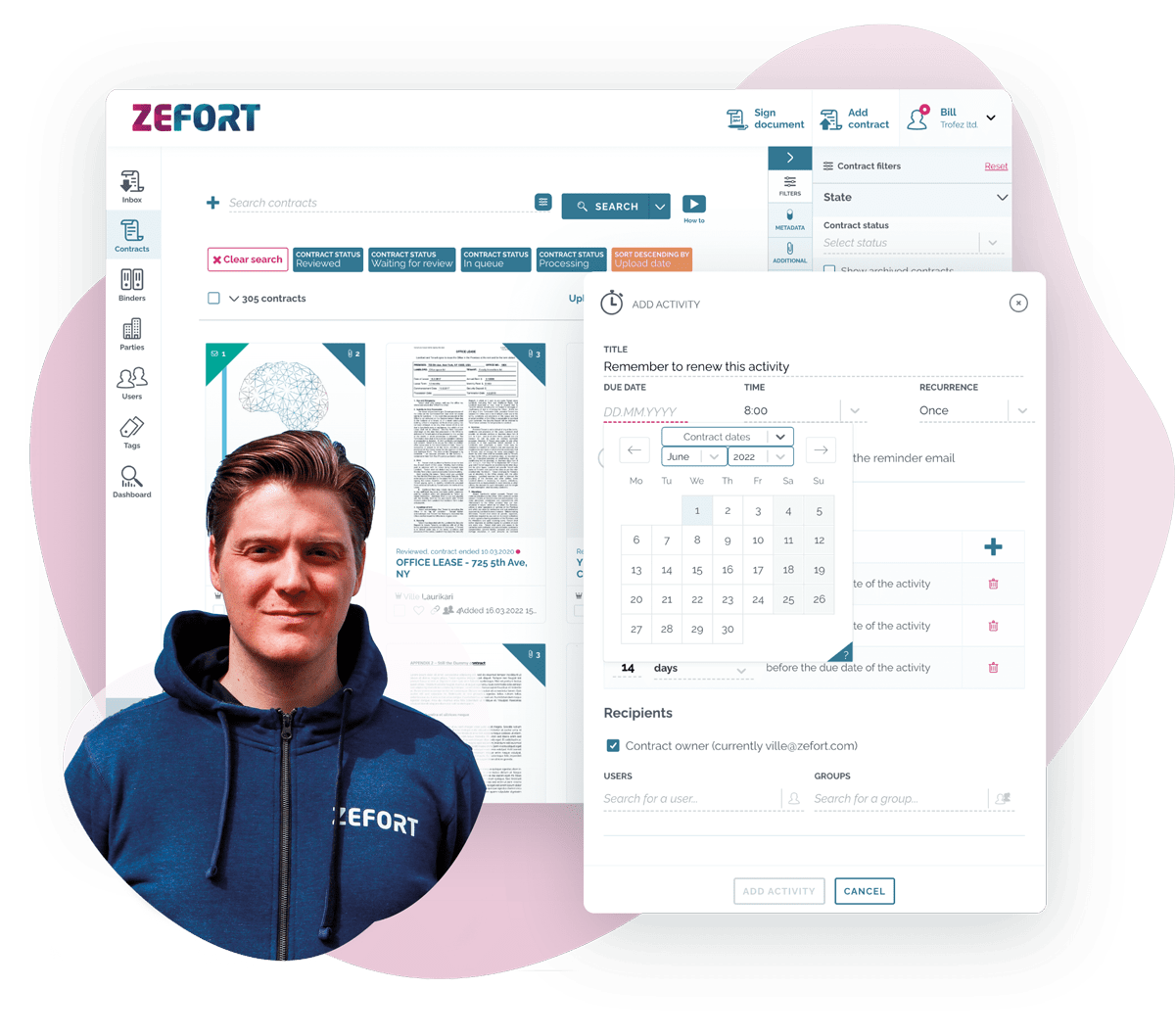 Take a tour of Zefort's key features and see how you can benefit from AI-powered contract management system.