Nitor replaced other signature services with Zefort Sign
Digital engineering company Nitor employs over 230 digital development professionals in Finland and Sweden. Nitor offers services related to organizational strategy, agility, design, data, and technology, serving a wide range of industry-leading companies.
With its growing and internationalizing business, Nitor found itself in a situation where the company used multiple service providers for electronic signatures in both Finland and other Nordic countries. And, while contracts were managed electronically, there was no centralized contract management system in place.
Nitor's team realized that the overall contract management had become too fragmented and inefficient. Managing digital signature requests was slow and transferring contracts from various signature services to the contract archive required manual work.
Impressed by Zefort's ease of use
Nitor began to search for a more agile way to manage contracts. The team explored several systems and found that many solutions were designed for massive corporations: systems designed for thousands of users were too rigid and complex for Nitor's needs. On the other hand, some candidates were too small and not mature enough to meet Nitor's requirements.
"What particularly impressed us about Zefort was its user-friendliness and smooth user management. The electronic signature service included in the solution, Zefort Sign, was a significant factor behind our choice." – Pekko Linnanmäki, Legal Counsel, Nitor
Nitor actively develops its own processes and seeks to improve collaboration with service providers. With Zefort, Nitor is pleased with how improvement suggestions and development ideas were received.
Smooth signing with Zefort Sign
Currently, Nitor uses Zefort Sign almost exclusively for all its electronic signature needs. The game-changer was the strong authentication feature available in both Finland and other Nordic countries.
"Previously, we used several different electronic signature solutions – now Zefort Sign covers almost all our needs. When there are many signatures, speed becomes crucial: now signing takes one minute instead of five." – Pekko Linnanmäki, Legal Counsel, Nitor
Time savings in contract management are also achieved by automatically storing documents signed with Zefort Sign directly in Zefort's contract archive. Nitor also benefits from the ability to define signer groups for smooth signing of recurring documents, such as meeting minutes, reducing manual work.
"Zefort Sign is a good signature service – the system is easy to use, and user needs are taken into account in its development." – Pekko Linnanmäki, Legal Counsel, Nitor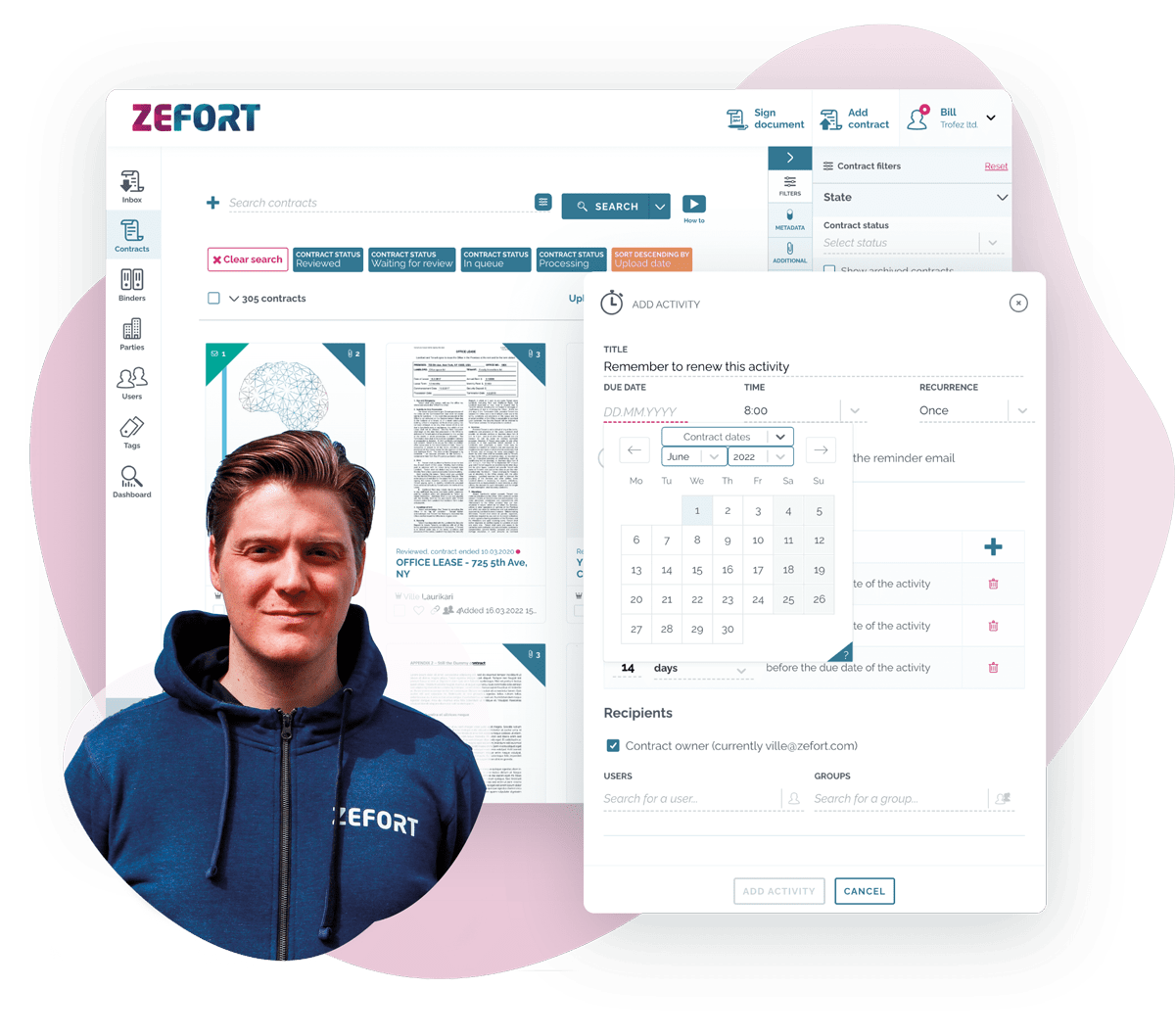 Take a tour of Zefort's key features and see how you can benefit from AI-powered contract management system.