Remedy Entertainment chose Zefort's user-driven contract management solution
Gaming company Remedy wanted to improve its contract management process. As the development team felt that most alternatives were far too rigid and system-driven, Remedy decided to choose Zefort's contract solution. Now various contracts are stored in a secure cloud environment and are available for just the right people at the right time.
Remedy Entertainment is an internationally recognized console and PC game company, listed publicly on the First North list in the Helsinki Stock Exchange. Remedy is known for its story-driven and visually impressive games such as Alan Wake, Max Payne, and the latest game, Control. Remedy Entertainment employs 200 top gaming professionals and had a turnover of 20 MEUR in 2018.
Remedy started to develop its contract management processes in early 2018. The company wanted to centralize all its contracts from individual folders on various network drives to a single secure solution. The project team reviewed various contract management solutions available. Zefort was singled out from the rest – the team felt that other solutions were too rigid, difficult to understand and system-driven in their design.
We have a lot of experience from various information systems. That's why we knew from day one what kinds of solutions we were not looking for. From first glance, Zefort felt like a flexible and easy-to-use solution that is clearly designed with the user in mind. – Terhi Kauppi, CFO, Remedy Entertainment
Access rights from the matrix, contracts from email
Zefort was able to create the required access rights for Remedy's staff without any problems. The access rights come from a centralized Single Sign-On user access management system that defines a specific role for each user (Admin, Editor or Viewer).
In Zefort's web dashboard, the contracts are divided into various folders based on various company functions. The required access rights are applied on a folder level. Some users might have read access to a large amount of contracts while some of the users may only view (and possibly edit) only contracts that belong to a specific company function.
Remedy's users add new contracts to Zefort contract management solution mainly by sending a single email.
Very often new contracts end up in someone's email inbox after the contract is signed. Archiving a contract from email is made really simple: all the user has to do is to forward the contract and any attachments to a predefined Zefort email address. This allows archiving contracts completely without logging in to Zefort service.
Special thanks for customer-oriented service
By starting to use Zefort, Remedy brought its contract management to meet today's standards. All contracts are now available in a centralized cloud service. Thanks to Zefort's excellent search features, the required contracts can now be found in seconds.
Remedy also feels that cooperation with Zefort team during and after launch has been exceptionally good.
Cooperation with Zefort team has been exceptionally good. They have reacted to any issues quickly, listened to our input and implemented our suggestions. I can't think of any other supplier that has provided as good cooperation as team Zefort – Terhi Kauppi, CFO, Remedy Entertainment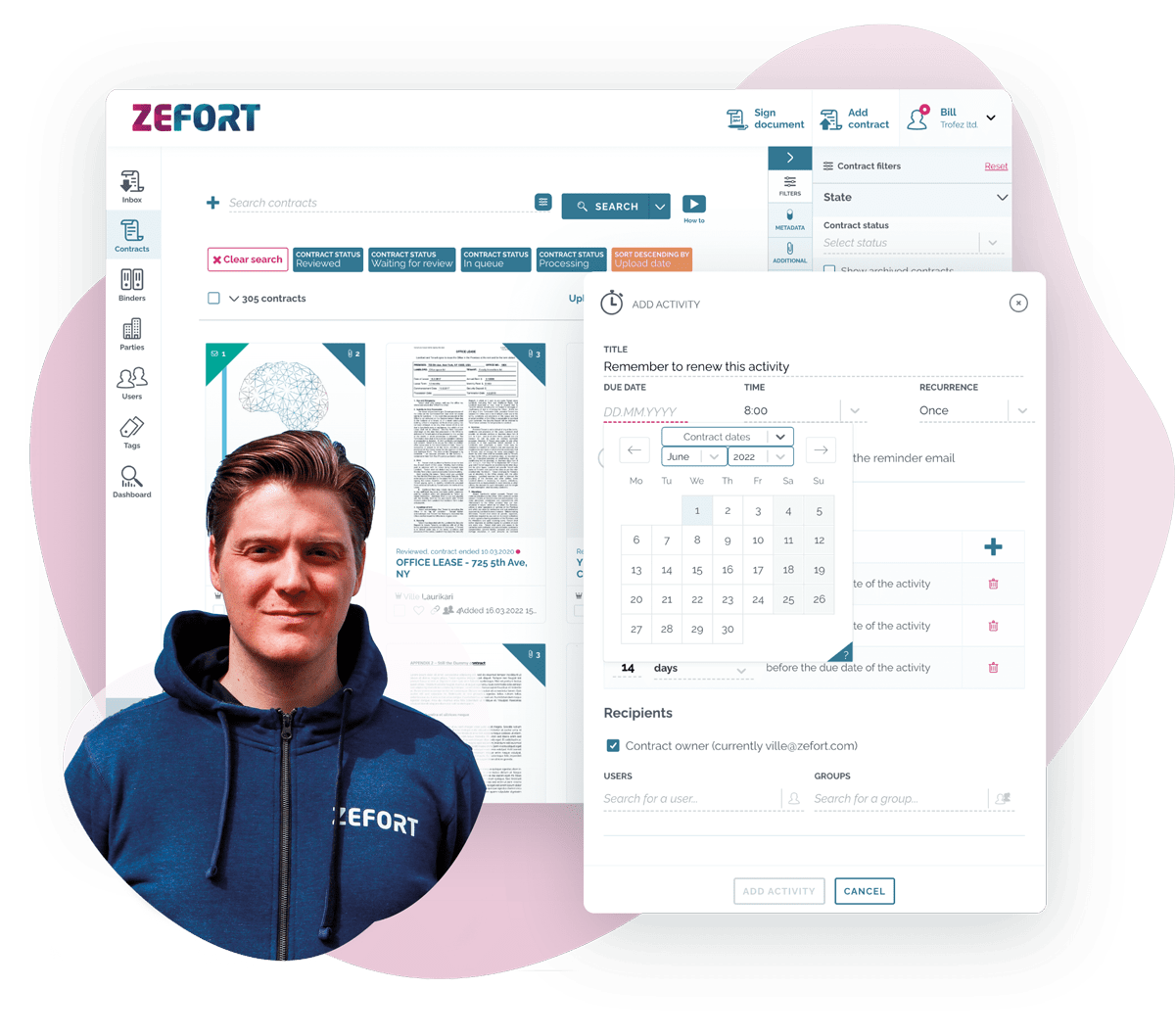 Take a tour of Zefort's key features and see how you can benefit from AI-powered contract management system.