Rovio moved from clunky contract management to Zefort
Rovio is a game and entertainment company probably best known for its global breakthrough brand, Angry Birds. Publicly listed in Nasdaq Helsinki, Rovio operates internationally through 7 game studios mostly based in the Nordic countries.
Before Zefort, Rovio's team was using a leading document management system for managing its contracts. However, the team was not fully satisfied: the solution felt heavy and cumbersome and things like metadata and user management were too difficult for efficient workflows.
"We had a comprehensive DMS, but in reality only used a fraction of its features. We wanted to switch to an easier solution, specifically designed for contract management." – Minna Raitanen, General Counsel at Rovio
Easy migration to Zefort
Before selecting Zefort, Rovio's team looked at several alternative solutions. The team decided to pick Zefort as it ticked just the right boxes.
"Zefort is simple and flexible to use and it covers all our needs. Now anyone can find the information they need quickly and reliably." – Marita Viekonelo, Paralegal at Rovio.
To move its 15,000+ documents from the legacy system to Zefort, Rovio decided to source a migration project from Zefort. For Rovio, the migration was easy: after a few meetings with Zefort's migration team, the data was extracted and added to Zefort.
Thanks to Zefort's intuitive interface and Rovio's digital-savvy team, the company did not see the need for any specific user training – linking to Zefort's existing guides and tutorials were enough.
Easy archive for everything important
Today, Rovio uses Zefort to archive all its contracts and other important documents – essentially everything that the company has to keep safe. In addition to the legal team, Zefort is also used by the business and financial teams and HR.
For Rovio, Zefort's top features include its all-inclusive search, uncluttered user interface, metadata management, user management and eSign integration. The team also appreciates that new useful features, such as the possibility to link related contracts together, are being added to the service.
"I'm happy to recommend Zefort's contract management solution to essentially any company. For us, moving from an all-purpose solution to a dedicated contract management tool was the right call." – Minna Raitanen, General Counsel at Rovio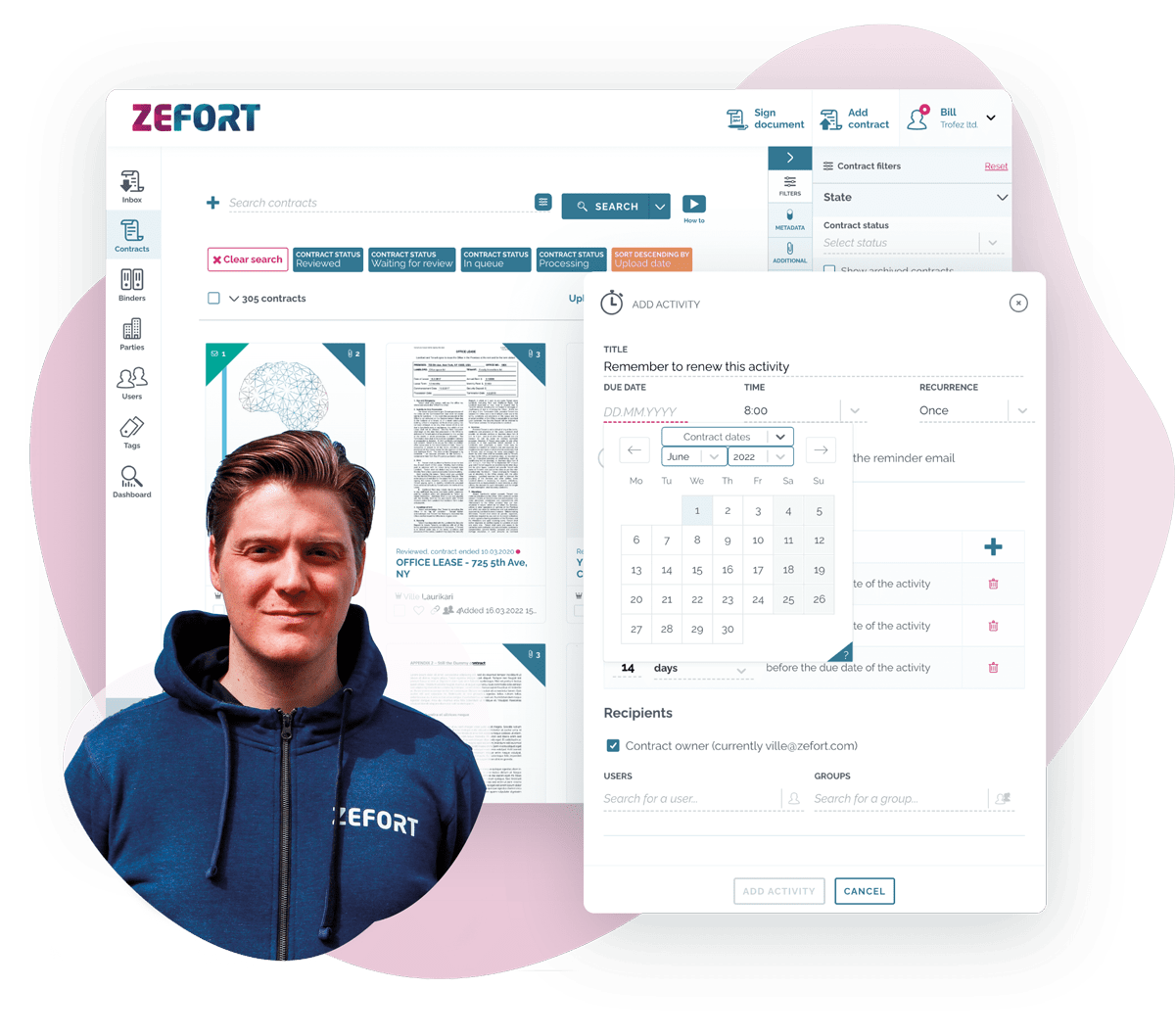 Take a tour of Zefort's key features and see how you can benefit from AI-powered contract management system.